Semmelmann powers to victory in Sprint Cars at USA!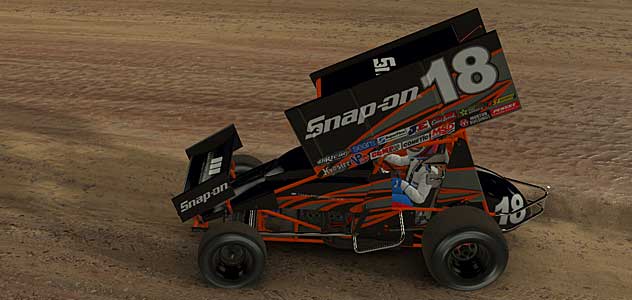 LAKELAND, FL (May 15, 2017) — Austen Semmelmann knew that the initial start and any restarts would be crucial on Monday night at the USA Raceway in Lakeland, FL, as the World of Outlaws Team VLR Sprint Car Series visited the 3/4 mile oval. Semmelmann was able to get the jump on the initial start, and subsequently got good launches following the four cautions that occurred in order to pull away to a .0639 victory over Howard Weaver.
The veteran driver started on the pole in the main event and found Weaver hot on his heels when the caution came out on lap two of the 35 lap race involving Eric Tupper. Semmelmann was then able to weather the next three cautions to hold off Howard Weaver, who is typically known for his Dirt Late Model prowess.
"We had a great Buffalo Wild Wings 360 Sprint Car tonight here at USA," commented Semmelmann in Victory Lane. "This is one of my best tracks for sure and I thought we would have a fast car. The track was a little slick which is perfect for my driving style so you had to work the throttle more than usual. I'm just happy to get the first win out of the way in this series and hope to win many more."
Semmelmann and Weaver stayed close much of the race, but the 22-year-old from Brookfield, WI was never seriously challenged and did not have to contend with any lap traffic during the fast-paced feature. A late race caution involving the #70 of Josh Weems put the fans on their feet for a one lap shootout. 
Last weeks VLR winner, Canadian driver Alex Bergeron, got a great start after the restart and was side by side with Austen Semmelmann going into turn one after restarting third. Bergeron would end up crossing the line in second place but iRacing officials penalized him for jumping the restart coming to the green and white flag. VLR officials reviewed the video evidence and agreed with the iRacing officials and Bergeron was scored one lap down. It was Semmelmann who held off the advances of Weaver and Bergeron to take the win.
"My setup doesn't really like running the bottom side like we had to do tonight, but I feel like this was a driver's track where you had to work the throttle and keep your car pinned against the inside wall so that kinda helped us out I think. There was a good crowd of cars here tonight so it's nice to get the win in front of all these great drivers."
Crossville, TN driver Howard Weaver stayed near the rear bumper of Semmelmann all race long, but never was able to make a serious charge. However, he was able to hang on for a strong second place finish driving a car that he typically doesn't race in for owner Rocky Battenfield.
"To run second in Sprint Cars against a bunch of fast guys here it's basically a win to me," said Weaver. "I didn't expect to run this well at all. I came in late to practice and didn't get much time on the track but once I got the hang of it and it slickened off I felt we were really competitive. It all started with qualifying second. I didn't think I had anything for Austen but to be able to hang with him for the most part as good as he is in Sprint Cars I was pretty happy. My main goal was just to avoid trouble and run a clean race and that's what we did. I'll take a second all day long as someone who usually only runs late models."
The Hard Charger of the race, as well as the furthest traveler, was Sydney, Australia's Brett "The Jet" Wheeler. The pilot of the #56 machine rocketed from 17th to 3rd in 35 laps to record a podium finish in front of over 5,000 fans at the USA International Raceway.
"When you travel 10,000 miles away to race you have to finish good or you're not going have much fun," said Wheeler after the race. "We missed qualifying and had to go to the back so getting up to fourth at the end feels great since we didn't have any hot laps or heat racing to get a feel of how slick the track was going to be. We will take it and hopefully be back next week."
The international flair continued in the top five, as another Canadian driver, Tommy Champagne, finished fourth to back up his fifth place run in the season opener of the VLR 360 Sprint Car Series last week. Champagne was followed by Muskogee, OK's Rocky Battenfield, Amy Gray, who charged from 18th to 7th, Austin Kingery, Eric Tupper, Andrew Locuson, and Brandon Smith in tenth. 
The World of Outlaws Team VLR Sprint Car Series returns to action next Sunday night just up the road at the Volusia Speedway Park for 40 laps of racing action. Hot laps start at 9:00 eastern!