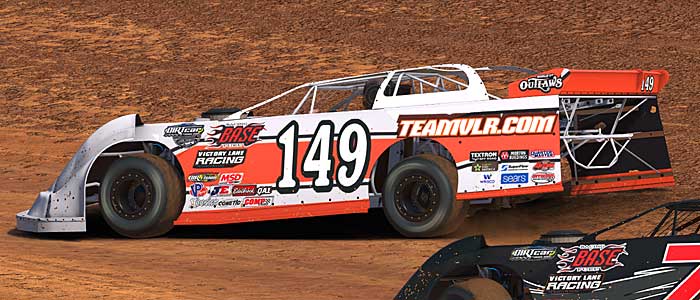 *Note: We are looking for iRacing Dirt sponsors! If interested, please visit this link now. Thank you for your support: Sponsor Us!
MECHANICSBURG, PA (May 15, 2017) – Trevor Denton held off a slew of challengers to win his first career VLR Pro Late Model Series race on Sunday night in iRacing. The Knoxville, TN driver's victory was the second of his entire VLR career spanning two different games. However, finding victory lane in his fourth start in the VLR iRacing series shows that he has what it takes to be one of the top competitors in the business right from the start.
Denton's teammate and last weeks winner Howard Weaver, also a Tennessee driver from Crossville, made the trip north as well and brought home a strong second place finish but had nothing for the 149 machine of Denton. Denton lead every lap en route to the win and survived a late caution to pull away to a nearly two second victory.
"We've been fast here at VLR every race, but tonight we were a step above everybody else and was able to put our car where we needed to be in order to be fast. They hung with me decent early on but as the track started slickening up we seemed to get even better. It's good to get a win after being near the front every week and hopefully we can keep the momentum going at Volusia next Sunday," said Denton in Victory Lane.
Howard Weaver came home second and was involved in an early race skirmish with point leader Austen Semmelmann which spilled over into the latter stages of the race as well. The two rivals would beat and bang but Weaver was able to hang on to second in the end.
"As usual Austen can't stand to be beat and he kept trying to wreck me about four times and all he did was about spin himself. I got into him a little early after he backed off and got sideways in front of me and then during that last caution he kept running into me and then diving in the corner wide open trying to wreck me. I definitely don't feel bad that he almost wrecked himself because of it.
If he doesn't have the best car he's going to try his best to ruin other drivers nights as well. All in all it was a great race for us at a track I'm not particularly good at and I'm really glad to see my buddy Trevor get a win. He is going to win a lot of races here I believe," said Weaver after the race.
Brookfield, WI driver Austen Semmelmann finished third, three seconds back from the lead. Semmelmann won the first two races of the series but has not found victory lane in the two races since. Eric Hough and newcomer Jason Shank had a very tight battle for fourth but the Iowa driver Hough was able to fend off Shank by half a car length at the line. Zachary Mietzner brought home sixth and was followed by Chris Orencia and Trenton Vogt rounding out the field.
Next week the stars of the VLR Pro Late Model Series will move on to the Sunshine State to do battle at the Volusia Speedway Park. Earlier in the season it was Austen Semmelmann fending off Dylan Wilson for the victory at the half-mile D shaped oval. However, Trevor Denton will look to go back-to-back this season at VLR after not being able to attend the earlier race at Volusia. We hope to see everyone back next Sunday night at 8:30et for the race!