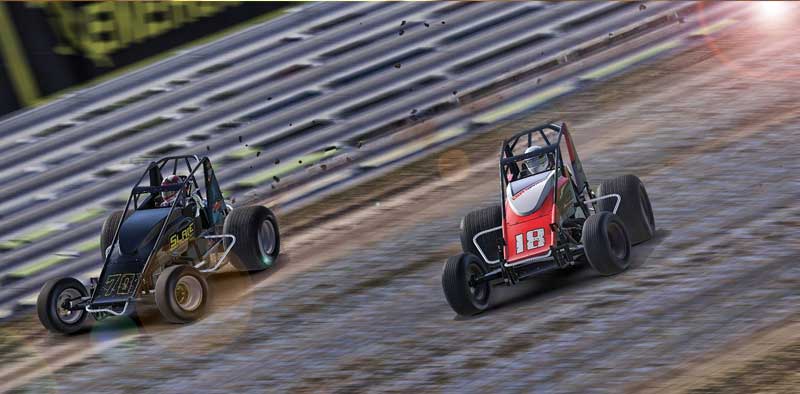 Knoxville, IA (June 13th, 2018) - Team VLR's inaugural non-wing sprint car race kicked off with 40 sprint cars signed in for action at the famed Knoxville Raceway.
Chris Brenner started the night out by setting quick time with a blistering 17.694 second lap around the half mile, nearly a full tenth faster than his closest competitor. Brenner would go on to lead every lap winning his heat race as well. Other heat winners included Austen Semmelmann, Anthony LoPresto, and Alex Bergeron.
Braden Eyler would claim the checkered flag in the B Main, setting the stage for 30 laps of A Main action. Ohio driver Chris Brenner would get the initial jump, but make contact with the turn 1 retaining wall in the opening corner, with drivers taking evasive action to miss him, while Chris managed to keep his UWU Motorsports machine pointed in the right direction. 
Second place starter Austen Semmelmann would work his way into the lead after an intense battle with Chris trading slide jobs for several laps. Austen battled with several drivers including Anthony LoPresto and Dillon Semmelmann throughout the race maintaining his top spot.
A late caution brought the fans to their feet for an exciting green, white, checkered run to the finish. Wisconsin driver Austen Semmelmann managed to fend off a late charge from Anthony LoPresto to hang on and claim victory in the season opener! 
VLR driver David Heileman rounded out the podium in third, while Britton Michael Hayden Roxberry and Trevor Royer completed the top 5. 
Winner: Austen Semmelmann
Hard Charger: David Heileman (12th to 3rd)
A Main Finish:
1. Austen Semmelmann
2. Anthony Lopresto
3. David Heileman
4. Britton Roxberry
5. Trevor Royer
6. Dillon Semmelmann
7. Timothy Smith
8. Chris Brenner
9. Cole Neuhalfen
10. Zak Rounds
11. John Lopresto
12. David Flick
13. Steven Renaud
14. Garrett Niebruegge
15. Jonathan Smith
16. Austin Carr
17. Branden Little
18. Nathan Davis
19. Alex Bergeron
20. Braden Eyler