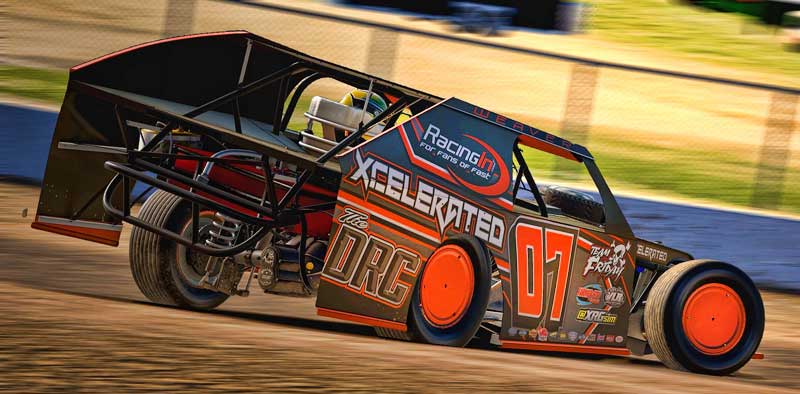 Wednesday May 2, 2018 (Volusia Speedway Park) - After shaking off a disappointing finish last week at Knoxville, Howard Weaver found victory lane tonight in a wild ending at the Volusia Speedway Park after 50 laps.
Weaver started on the pole for the race and led every lap before a race ending caution on the last lap coming to the checkers. Weaver and second place running (and points leader) Dylan Wilson were collected in the ensuing pileup but the field was frozen in turn four when the caution occurred.
The race went caution free from start to finish until two drivers on the tail end of the lead lap collided off turn four blocking the track coming to the checkered flag, and the leaders piled in just before the line.
"It was going to be a great finish with Dylan and me there," said Weaver in victory lane. "I hadn't won in forever it feels like so I'm really happy to finally get one again. I just wish we could've raced to the line there without that wreck. Neither of us knew the rule so we both (Wilson and Weaver) were racing back and it got pretty crazy. I never expected it to go caution free like that until the very last turn."
The win was Weaver's third on the season, but he still trails Dylan Wilson in the standings heading into next weeks season finale by just seven points. Jacob Leverstein showed he had one of the fastest cars all race and came home with a third place finish as well as the Team Friday Fast Lap Award with a 17.224 lap time. Vinny Fingers nabbed an impressive fourth place finish, while Dylonn Fox brought home a strong fifth place finish after battling in the top three for part of the race.
The Mastell Brothers Trailer Service Inc. Hard luck Award went to Dalton Conner who started 11th before getting caught up in the final lap accident and coming home 20th.
Lucas Chowning picked up the Burrberry Designs Hard Charger Award after going from 25th to 16th under all green flag conditions.
Next Wednesday the stars of the Team VLR UMP Modified Series head back to the legendary Knoxville Raceway for the season finale. A WR1 Sim Chassis is on the line for the series champion as well as $200, with a championship purse total of $550.
Race Winner: Howard Weaver (Started 1st)
Hard Charger: Lucas Chowning (Started 25th; Finished 16th)
Fast Lap Award: Jacob Leverstein (17.224)
Fast Qualifier Award: Howard Weaver (17.591)
FULL A Main Results:
1. Howard Weaver
2. Dylan Wilson
3. Jacob Leverstein
4. Virgil Graham
5. Dylonn Fox
6. Shane James
7. Zak Rounds
8. Cole Falloway
9. David Heileman
10. TJ Carter
11. Mike Molnar
12. Trevor Fitz
13. Jeremy Capron
14. Garrett Niebruegge
15. Clay Debban
16. Lucas Chowning
17. Darren Litteral
18. Cole Neuhalfen
19. Adam Bush
20. Dalton Conner
21. Blake Brown
22. Jason Mynatt
23. Kyle Miller
24. Drew Phillips
25. Jacob Fields