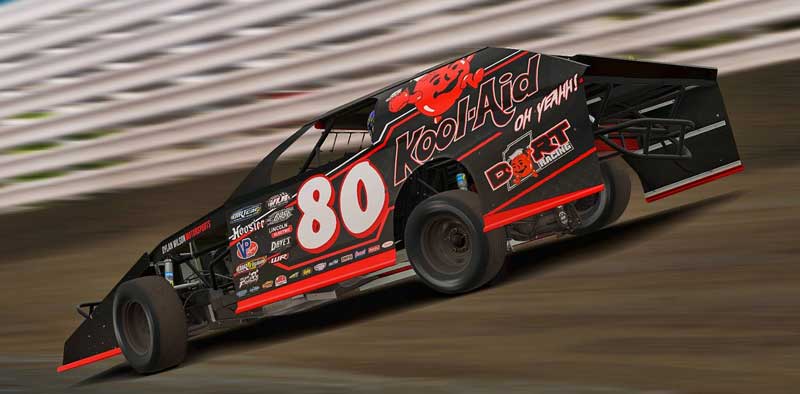 Wednesday April 25, 2018 (Knoxville Raceway) - For the fourth time this season, the Kool-Aid man Dylan Wilson parked his car in victory circle at Knoxville after surviving some late race mayhem and taking the points lead back from Howard Weaver in the process.
The stat sheet will show that Wilson led all but one lap of the 60 lap affair, but the Bakersfield, CA driver never had any breathing room with drivers like Jacob Leverstein and Zakery Rounds breathing down his bumper for the entirety of the race.
Wilson would go on to survive a flurry of late race cautions after only having to deal with one caution in the first 35 laps to earn a hard-fought victory by just 0.136 seconds at the half-mile oval.
"I had someone challenging me that whole race," said Wilson in victory lane while breathing a sigh of relief. "I was a little lucky I guess to start on the pole. My setup wasn't good at all over those bumps but we kinda limped it home for the win so we'll take it.
Nearly picking up where he left off in Tuesday night's Late Model feature at Knoxville, Zak Rounds had the fans on their feet again after making a late charge to the front. The Michigan driver started 17th in the UMP Modifieds and took over second place with a handful of laps remaining and was in the process of going for the lead with three to go before a caution. He would end up coming one spot short of his first career UMP Modified win at VLR. In the process, Rounds picked up the Burrberry Designs Hard Charger award for his efforts.
Last weeks winner Dylan Houser brought a strong third place finish. Vinny Fingers held on for a strong fourth place result, while Jeremy Capron rounded out the top five finishers.
Jason Mynatt was the recipient of the Mastell Brothers Trailer Service Inc. Hard Luck Award after starting in fourth and having a rough night getting involved in accidents not of his own doing to finish 21st.
T.J. Carter earned his first Team Friday Fast Lap Award of the season with a blistering lap of 19.57 despite getting involved in a massive lap one incident.
Next Wednesday the stars of the Team VLR UMP Modified Series head to the very popular Volusia Speedway Park as only two races remain in the series.
Race Winner: Dylan Wilson (started 1st)
Hard Charger: Zak Rounds (started 17th, finished 2nd)
Fast Lap Award: TJ Carter (19.57)
Fast Qualifier Award: Dylan Wilson (19.85)
FULL A Main Results:
1. Dylan Wilson 
2. Zak Rounds
3. Dylan Houser 
4. Virgil Graham 
5. Jeremy Capron
6. Garrett Niebruegge
7. Kyle Miller 
8. Kendal Tucker (suspended one week)
9. Blake Brown
10. Jacob Fields 
11. Jacob Leverstein 
12. Clay Debban 
13. Howard Weaver 
14. Lucas Chowning 
15. Rocky Battenfield
16. Randy Crowder 
17. Dalton Conner
18. Darren Litteral 
19. Trevor Fitz
20. T.J Carter
21. Jason Mynatt
22. David Heileman
23. Kyle Morris
24. Tommy Dutcher