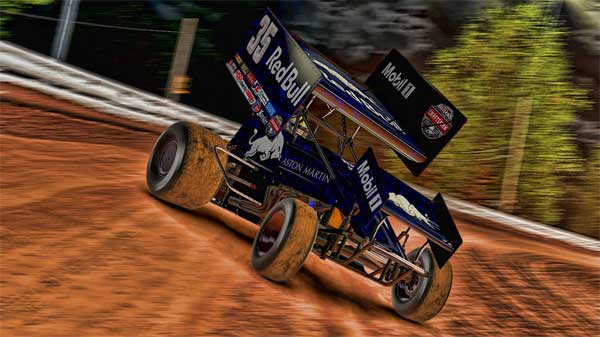 Sunday, February 25, 2018 (Williams Grove Speedway) - Waterloo, New York's Nick Cooper took home his second straight victory in the X.CELERATED Sprint Car Series presented by Dirt Collective Sunday night. 
Cooper started on the outside of the front row, alongside pole-sitter Jason Brown, and eventually took over first place and never looked back. Though Cooper led the majority of the race, he was not without challenge as Dillon Semmelmann and Austin Carr both pressured Cooper late in the race. 
After last weeks race, which saw Cooper overtake Austen Semmelmann on the final lap after Semmelmann ran out of fuel, Cooper took caution to manage his fuel in the second week of the series.
"I was a little bit lenient with fuel," Cooper said in a post-race interview with Off Camber TV, adding that he "was a little close on fuel at the end, and didn't know how it would pan out."
After the final lap was completed, the podium was set with Austin Carr in second and Dillon Semmelmann in third. Just missing out were David Heileman in fourth and the hard charging Max Stambaugh in fifth.
Moving from 20th to fifth, Max Stambaugh took home the DIRT All-Access Hard Charger in the 410 sprints. In the 360 sprint feature, Michael Rozendahl took home the award moving from 24th to sixth.
Nick Cooper set the races quick time with a blistering 18.047 second lap to win the Team Friday Fast Lap Award.
In the first event of the night, Howard Weaver took home victory in the 360 Sprint Car feature after starting third. Kevin Loveys, David Flick, Shane Kelley and Michael Rozendahl round out the top five.
Next Sunday the stars of the X.CELERATED Sprint Car Series presented by Dirt Collective will head to the short track of Lanier Speedway to do battle, where Nick Cooper will be looking for his third straight victory of the series.
410 Sprints Results:
Race Winner: Nick Cooper (started 2nd)
Hard Charger: Max Stambaugh (started 20th, finished 5th)
Fast Time: Nick Cooper, 18.047
360 Sprints:
Race Winner: Howard Weaver (started 3rd)
Hard Charger: Michael Rozendahl (started 24th, finished 6th)
410 Results:
1. Nick Cooper
2. Austin Carr
3. Dillon Semmelmann
4. David Heileman
5. Max Stambaugh
6. Austin Matthews
7. Shane James
8. Mike Molnar
9. Alex Bergeron
10. John LoPresto
11. Cole Neuhalfen
12. Jamie Martin
13. Justin Norwood
14. Bradley Casch
15. Dylan Wagner
16. Timothy Smith
17. Toby Debele
18. Jason Brown
19. Anthony LoPresto
20. Austen Semmelmann
21. John Battista
22. Trampas Kolthoff
23. Josh Phillips
24. Nathan Davis