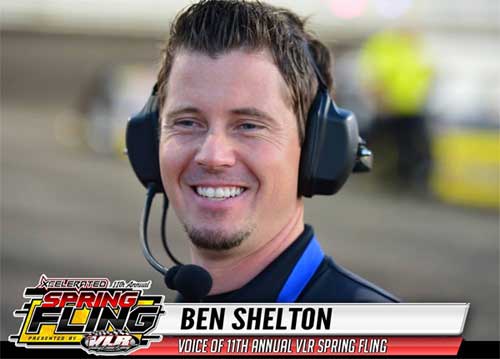 In addition to bringing on D1RT Racing as a sponsor, pushing the total purse to over $2,700 for the 11th Annual Spring Fling on Thursday April 5th, we'd like to welcome Ben Shelton aboard as the voice of the Spring Fling along with Wes Graham and Off Camber TV!
Ben Shelton is the best in the business in the real world and we are super excited to have him along for this huge Late Model sim racing event! Most dirt track racing fans have heard him call some of the biggest events in the racing world, but if you haven't be sure to check out a little of his work in the video below!
https://youtu.be/NQGclQUMvvM
Shelton has called many events including being the lead announcer for the Gateway Dirt Nationals at the Dome in St. Louis, Wild West Shootout at Arizona Speedway, Short Track Nationals at I-30 Speedway, Magnolia State 100 at Magnolia Motor Speedway, and the list goes on and on.
He has also been a pit reporter for the World 100, Knoxville Late Model Nationals, Silver Dollar Nationals and Dirt Late Model Dream.
In fact, if you have MAVTV, you can catch Shelton in action tonight at 7pm and 10pm Eastern from Speedweeks!