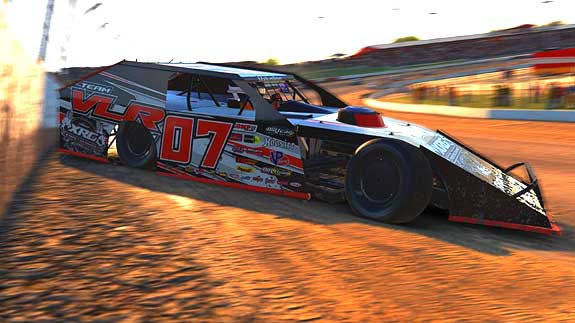 BEFORE READING, WATCH THE FULL RACE BROADCAST HERE: https://www.facebook.com/TeamVLR/videos/1767366233291987/
ROSSBURG, OH (October 2, 2017) - Howard Weaver added another major sim racing accomplishment to his resume Monday night at Eldora Speedway in VLR's Monday Mod Madness series by winning the race over the most cars in VLR's thirteen year history. The Tennessee driver took the checkers against a field of 50 of iRacing's best drivers in an intense race full of slidejobs and three and four wide racing.
Weaver, 29, started third before quickly working past teammate and outside pole-sitter Justin Norwood. He then set his sights on the 16 car of Bryce Fauntleroy. Weaver was on the bumper of Fauntleroy for the lead after 9 of the 60 laps were completed. The tandem of drivers then began trading slidejobs at every turn in a rousing battle for the lead that had the fans on their feet.
Weaver and Fauntleroy swapped the lead over 15 times during the next 8 laps until Fauntleroy made contact with the wall on lap 17, allowing Weaver to take the top spot over for good.
"That was one of the most fun races I've been in," said Weaver, who qualified 9th but used a strong finish in the heat race to start 3rd in the A Main. "I didn't think I'd win any of these UMP Mod races at VLR this season because of how tough these races are, so to win this one, with a VLR record of 50 cars is really cool.
"That was an awesome race with Bryce (Fauntleroy) early. I think we traded slidejobs about 15 straight laps it felt like. I never had a chance to relax because there were cars right on my bumper the whole race."
The first caution of the race fell on lap 19 whenever Mason Crawford, John Fidler, Austen Semmelmann and Blake Cannon went four wide out of turn four and bottled up together resulting in Crawford's car spinning down the track and making contact with the inside barrier, ending his night. Cannon was able to squeeze through and eventually worked his way up to finish in second after starting tenth on the grid.
"The way the track was he (Howard) had the track position and could hold me off," said Cannon after the race. "It just came down to whoever could make the least mistakes running that close to the outside wall. Maybe the race-winning move could've been if I was able to slide up in front of him, but when you're racing with someone who's running for the points you gotta think twice sometimes.
"All in all coming from tenth it wasn't too bad to finish second. Being able to come from mid-pack just shows how versatile the track was."
Austen Semmelmann came home with a third place finish on the night after rallying from his sixth starting position. "I drove my butt off. I probably didn't have a third place car to be honest with you. I was just trying to time the passes right and put myself in the right spots, so it worked out for me. I'm proud to run third tonight in this Breast Cancer Awareness Mod that we will be running the whole month of October."
Semmelmann was followed to the line by Dylonn Fox and Marc Molnar rounding out the top five. Both drivers recorded their best finishes of the season out of the 50 cars that attended tonight's race. Molnar's previous best finish this season was 18th.
Four caution flags slowed the sixty lap event, but Weaver was able to maintain the lead after each one despite heavy challenges from Blake Cannon and Austen Semmelmann.
Cannon had his best run of the night during a period from lap 35 to lap 45 when he closed the gap on Weaver for the lead and made a few attempts to pass the 07 from the low side to no avail. The final caution period ended with five laps to go and Weaver was able to pull away by eight car lengths while Cannon battled with Semmelmann for the runner up spot.
Dylonn Fox had a great final restart and threw his name into the hat for a potential top three finish before making contact with the turn 2 wall with three laps to go and easing home in fourth, with Marc Molnar nearly side by side with him.
Rounding out the top ten were John Fidler, Hard-Charger Corey Zatynski, who marched from 17th to 7th, Jason George, Eric Hough, and Mike Molnar. Ken Short was once again the fast qualifier on the night, but found himself caught up in a mid-race accident and limped home to a disappointing 11th place finish.
The VLR UMP Modified Series returns next Monday night for their second visit to the Lanier Speedway where another great field of drivers are expected to attend. John Fidler looks to pick up another victory after his season opening win at Lanier got the season started in early September.
For more information on VLRs three series', visit www.teamvlr.com. Fans can also follow series at www.facebook.com/teamvlr, where all of our races are broadcast LIVE every Sunday, Monday and Wednesday nights to thousands of viewers around the world.
$10 Race Winner Award: Howard Weaver
$5 Bakerbuilt Hard Charger Award: Corey Zatynski
FULL RESULTS:
Date: Monday 10/2/17
Track: Eldora Speedway
Cars: UMP Modifieds
Car Count: 50
Cautions: 4 in 60 laps
Pos Driver
1 Howard Weaver
2 Blake Cannon
3 Austen Semmelmann
4 Dylonn Fox
5 Marc Molnar
6 John Fidler
7 Corey Zatynski
8 Jason George
9 Eric Hough
10 Mike Molnar
11 Ken Short
12 Cazz Bedford
13 Timothy Smith
14 Kristopher Taggett
15 Bryce Fauntleroy
16 Shane James
17 Mason Crawford
18 Justin Norwood
19 Brayton Wallace
20 Tony Gualda
21 Jacob Leverstein
22 Jeremy Capron
23 Doug Buzzard
24 Garrett Niebruegge
25 Richard Stallings
26 Randall Carter
27 Rocky Battenfield
28 Ronald Pyles
29 Dustin Carter
30 Karson Sylvester
31 Donald Martin
32 Derek Line
33 Dennis Potridge Jr
34 Brandon Martin
35 Lewis Hewett
36 Josh Phillips
37 Jonathan Smith
38 John Allensworth
39 Daniel P Shepherd
40 Tommy Dutcher
41 Dylan W Thornton
42 Joseph Wirth
43 Kyle Thompson
44 Kyle Morris
45 Dylan Wagner
46 Hank Taylor
47 Bradley Casch
48 Scott Schrader
49 Jason Wood
50 Philip Daniels Jr