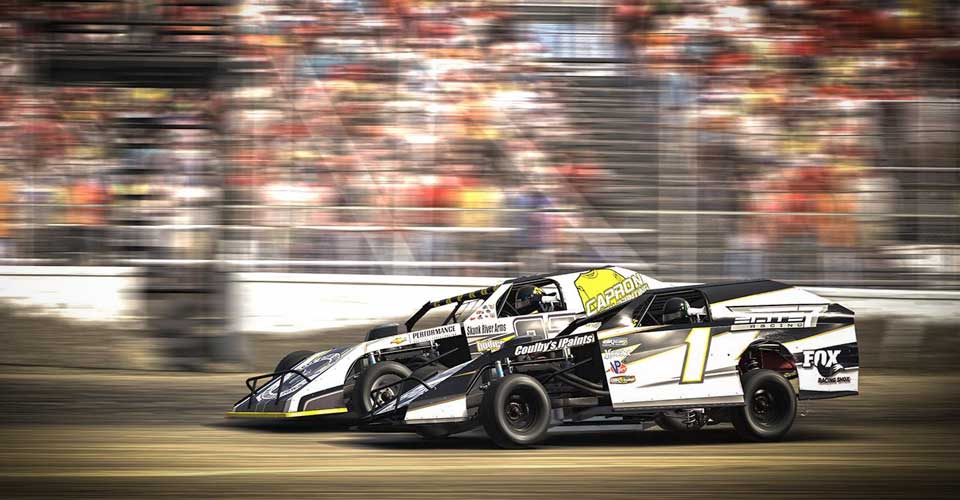 Tuesday November 13, 2018 - Jeremy Capron takes home round four of the D1RT Racing Jackpot Modified Series Presented by VLR at Limaland!
Capron started the eventful race off in seventh place at the 1/4 mile bullring, before gradually working his way toward the front of a stout field. The Iowa driver ran in third place for much of the latter stages of the race while leader and last week's winner, Blake Cannon traded slidejobs with Florida's Austin Carr.

However, after a tough time in lap traffic, Capron was able to close in on the two lead cars and make a move to grab second from Austin Carr, in the midst of an epic three-way battle for the lead with plenty of lap traffic to boot. The great night for Blake Cannon quickly turned sour, though, as contact with a lap car during a side-by-side battle for the lead with two laps to go sent the #44 machine up on two wheels down the back straightaway. The bad news for Cannon was great news for Capron, as he would inherit the lead on a Green/White/Checkered finish for the ages.

A great restart by second place Austin Carr allowed him to throw a slidejob in turn one on the final lap to briefly take the lead as the drivers raced down the back stretch one final time side by side.
Going into turn three on the final lap, Capron threw a slidejob of his on to retake the lead out of four. Carr would then perform a masterful crossover to come off the final turn side by side with Capron.
The two drivers raced back to the start finish line and after a close look at timing and scoring, Capron was determined to be the winner by a mere 0.028 seconds in a thrilling photo finish.

The win was Caprons first ever UMP Modified win in a VLR sanctioned event. The fan-favorite driver mentioned that it was "definitely the biggest win of (his) career" in victory lane over a stacked field of drivers. Another very impressive driver on the night was pole sitter Lucas Chowning. The Kentucky driver earned his best career VLR finish with a strong third place result at the tough bullring.

Full A Main Results:
1. Jeremy Capron
2. Austin Carr
3. Lucas Chowning
4. James Edens
5. Shad Prescott
6. Cory Whitworth
7. Jordan Casey
8. Dylan Wilson
9. Blake Cannon
10. Adam Elby
11. Cole Cabre
12. Jarrett Murphy
13. Cole Neuhalfen
14. Tyler Hallum
15. Rusty Kruger
16. Randall Carter
17. Jed Barton
18. Dylan D Thomas
19. Nick Cooper
20. Virgil Graham
21. Ryan Flaten
22. Alex Bergeron
23. Blake Matjoulis
24. Trevor Fitz