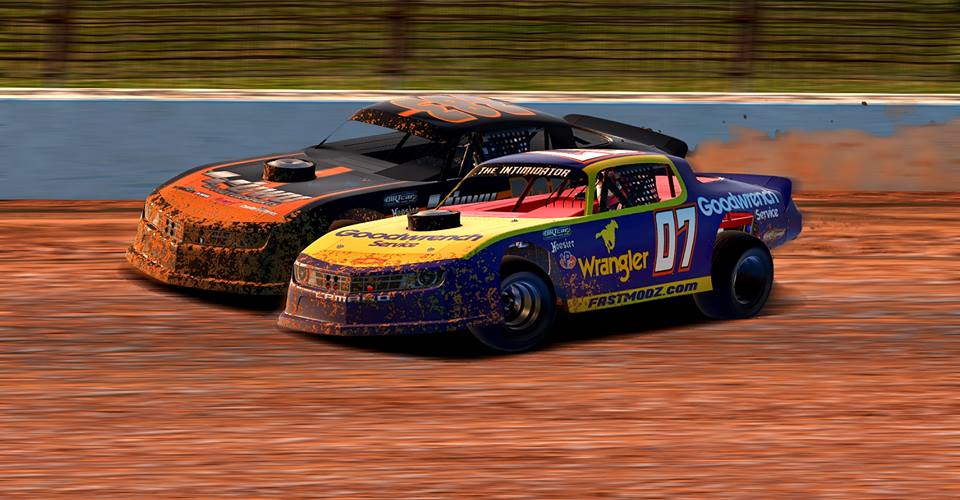 Charlotte, NC - Week 2 of VLR street stocks rolled into The Dirt Track at Charlotte for more close racing action. Tim Smith set the pace early in the night, going quick time with a lap of 19.12. He would go on to win heat #1 after a great battle with Howard Weaver. Heat 2 would go to Jacob Leverstein, while VLR driver Eric Hough would take heat 3 and teammate Garrett Niebruegge would win heat 4.
After the consolation races were complete, along with the top 8 redraw, the 20 car field was set for 30 laps of action. Fast qualifier Tim Smith would draw the #1 spot, with Garrett Niebruegge along side in 2nd. Smith would jump out to an early lead and set the pace. Trouble struck in the middle of the 3 and 4 wide battles throughout the field as caution flew numerous times before the halfway mark.
As the racing resumed, 4th place starting Howard Weaver would work his way up to 2nd and set his sights on Smith for the lead. Just after halfway they would rage war for the top spot, trading slidejobs lap after lap, with Weaver eventually gaining the top spot. As the laps wound down, Smith would have one last chance on the last lap with both drivers making contact with the outside wall on the backstretch.
Smith would send the massive slidejob, clearing Weaver, who turned under him and drag raced him to the line grabbing the victory! Tim Smith would take home 2nd, week 1 winner Jacob Fields finished 3rd, EJ Jones in 4th, and VLR driver Virgil Graham would round out the top 5, also locking up hard charger from 15th.
A Main Winner: Howard Weaver
Hard Charger: Virgil Graham (+10)
Points Standings: http://teamvlr.com/…/current-…/2018-fixed-street-stocks.html
A Main Results:
1. Howard Weaver
2. Tim Smith
3. Jacob Fields
4. EJ Jones
5. Virgil Graham
6. Zackary Anthony
7. Jacob Leverstein
8. Garrett Niebruegge
9. Chris Smith
10. Randall Carter
11. Jeremy Capron
12. Lon Franks
13. Dan Smolders
14. Michael Clark
15. Scott Schrader
16. Bud Watson
17. Phillip Neace
18. Aaron Paule
19. Cole Neuhalfen
20. Eric Hough