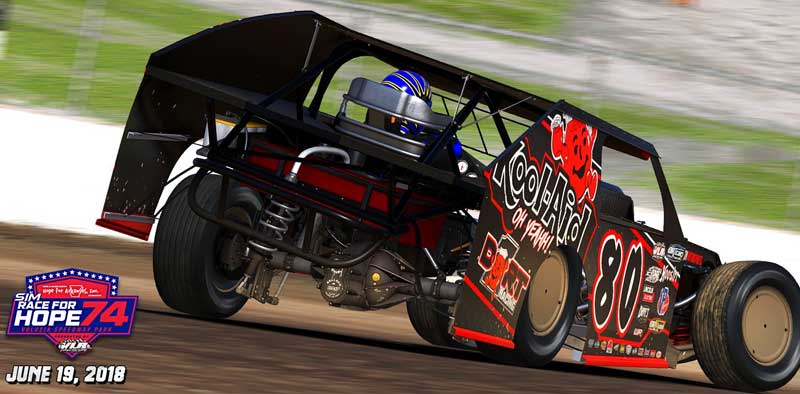 Tuesday June 19, 2018 (Volusia Speedway Park) - Bakersfield, California's Dylan Wilson came into the Inaugural Sim Race for Hope 74 as the odds on favorite to win against 119 of iRacing's top dirt drivers on Tuesday night and didn't disappoint. The race was the highest paying single purse race in iRacing dirt history, with $5,349 on the line including $1,000 to win.
Wilson started on the outside pole for the A Main after winning the 30-lap qualifying feature in Server 2. Austen Semmelmann would lead the first six laps of the feature before Wilson would just get by before the first caution of the night slowed the race.
From then on, the defending VLR UMP Modified Series Champion used his position at the front of the field to set the pace for the final 68 laps and would never look back on a track that seemed to have multiple grooves despite Wilson being able to make a lane higher on the track than anyone else and still pull away.
A near fifty lap green flag run in the middle portion of the race allowed Wilson to extend his race lead by over two seconds at times before lap traffic came into play. Just before Wilson entered the heaviest of lap traffic the caution would fly, resetting the field for a ten lap shootout.
Wilson would go on to survive another late caution with just three laps to go involving teammate Trevor Fitz and would hold off pole-sitter Austen Semmelmann and seventh starting John Fidler to collect the payday.
"The track was really comfortable to race on for me," said the $1,000 richer Wilson in victory lane. "I searched and searched around for a line but I couldn't find anything other than what I ended up winning with. I told myself I was either gonna win or lose on this line cause I'm not moving.
"It's awesome. Thank you to Team VLR for putting this on, and thanks to the Mark and Arlene Hope For Arkansas Foundation for their help with this. We worked our butts off the last couple months to get this right, so thank you everybody."
Wilson was followed to the checkered flag by pole-sitter Austen Semmelmann of Brookfield, WI by 0.984 seconds. Semmelmann earned a cool $500 for second place. Ohio driver John Fidler was a late entrant into the event and did not disappoint as he came home third after starting seventh. Michigan's Zakery Rounds took home fourth place, while Crossville, TN driver Howard Weaver charged from 11th to round out the top five.
All of us at VLR would like to thank RaceSpot, OSRNETWORK, iRacing, Ben Shelton, Justin Prince, Mark Martin, Barry Braun, Hammer Down iRacing Leagues, music creek photography, Huevo Paints, 22below, IracingIflag, Team Friday, TAC3 Defense, Capron Screen Printing, D1RT Racing, Scott James Motorsports, CMF Moteurs Electriques, and all the fans who came on board to make this happen.
We would also like to publicly thank KT King, Rocky Battenfield, Tommy Dutcher, Kyle Morris, Stephen Kalivoda, Ryan Martin, Howard Weaver, Blake Durflinger, Tyler Burrow, Nate Anderson, Robert Bellinger, Eric Hough, Tommy Rowe Jr, Aaron Paule and everyone else along the way that helped for the many, many hours that went into promoting, marketing, and adminning this event. These guys volunteered to put this show on including throwing in some of their own money to the purse for the love of sim racing and racing in general and without their hard work and dedication this event would not have been a success.
We hope to see you all back in the near future for more special events as well as for our standard weekly racing program!
Race Winner: Dylan Wilson (started 2nd)
Hard Charger: Shane James (23rd to 8th)
Fast Lap Award: Shane James (17.62)
Fast Qualifier Award: Server #1 John Fidler 16.91, Server #2 Dylan Wilson 16.87
$50 Capron Screen Printing Hard Luck Award: Drew Herchko
$25 D1RT Racing Best Appearing Car: Keith Hackney
$50 Team Friday Fast Lap: Shane James
$25 22below Koozie Hard Charger: Shane James
$50 Scott James Motorsports Cleanest Passer Award: Howard Weaver
$50 TAC3 Defense Front Row: Austen Semmelmann, Dylan Wilson
$120 CMF Moteurs Electriques B Main Non-Transfer money: $30 Matt Martin, $30 Justin Thomas, $20 Matt McKinney, $20 Brandon Schmidt, $10 David Heileman, $10 Cole Spacek
Deckert Racing Lap 12 Award: Adam Elby
IracingIflag Winner: Dylan Wilson
OFFICIAL A MAIN RESULTS:
1. Dylan Wilson
2. Austen Semmelmann
3. John Fidler
4. Zak Rounds
5. Howard Weaver
6. Jacob Fields
7. Nick Cooper
8. Shane James
9. Blake Cannon
10. Virgil Graham
11. Adam Elby
12. Randall Carter
13. Mike Molnar
14. Justin Norwood
15. Kendal Tucker
16. Kyle Miller
17. Terry Gray
18. Trevor Fitz
19. Josh phillips
20. Eric Fargo
21. Jordan Wesley
22. Clay Debban
23. Dan Smolders
24. Drew Herchko