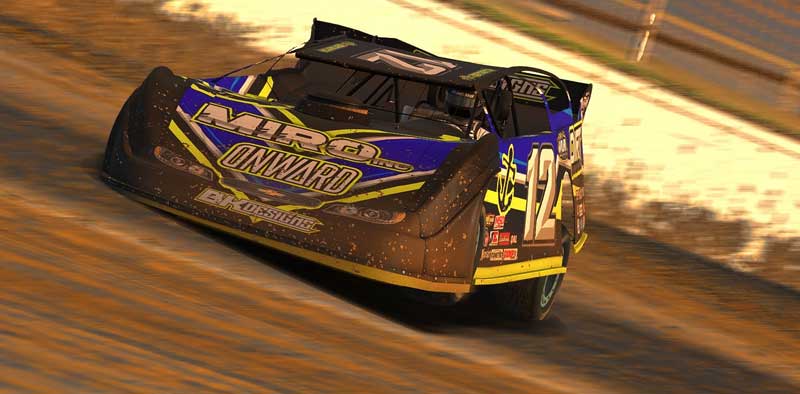 It was a great night for Team VLR in the second week of the World of Outlaws Craftsman Late Model Series in their visit to the Limaland Motorsports Park bullring. 
It was especially good for Canada's Alex Bergeron after taking the lead with twenty laps to go on a restart and never looking back for the biggest late model win of this career. After Howard Weaver won the season opener, VLR has now opened the series two for two on wins.
Sprint car star Nick Cooper started the festivities off right by qualifying on the pole in cars that he doesn't have a lot of experience in before eventually getting passed by the cushion pounding Bergeron for the top spot. Weaver rallied from his seventh starting spot to take second late in the race, but after getting loose on the cushion he and Cooper would make contact, sending Weaver back a couple of positions.
Alex Bergeron used the chaos behind him and successfully weaved through lap traffic to bring him the win. VLR regular competitior Zach Leonhardi was blistering the 1/4 mile track at the end of the race and came home second after making a great move when Cooper and Weaver tangled. 
Cooper salvaged a top three finish after starting on the pole. Weaver still hung on for a fourth place finish. David Heileman was the fastest car on track at the end of the race and made up huge ground in the closing laps to bring home a fifth place finish.
VLR drivers took home four of the top five finishing positions once the dust settled. Howard Weaver was able to extend his points lead going into race number three at Eldora, with a solid finish after winning the opener. Nick Cooper moved up to second in the overall standings, while Alex Bergeron is now fourth in the WoO LM series points. Great job to Alex and everyone on an overall solid and clean race on a tough track!