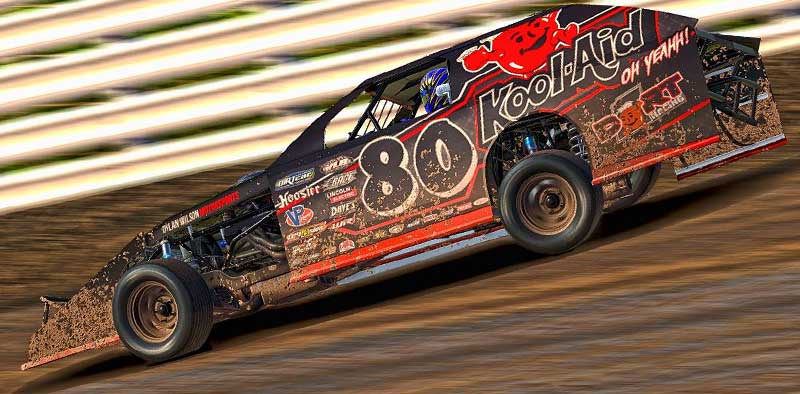 Wednesday May 9, 2018 (Knoxville Raceway) - Capping off a dominating season in the VLR UMP Modified Series, Bakersfield, CA driver Dylan Wilson ended with a bang, by winning both the feature event as well as the championship last night at Knoxville. The win was his fifth overall of the season and third at Knoxville.
For the second week in a row the A Main was set with points runner up Howard Weaver on the pole with point leader Wilson to his outside. What was shaping up to be a great final showdown between the two drivers who dominated the series quickly turned sour for Weaver.
The Tennessee driver experienced connection issues just before the race began and was forced to come from 26th instead of his initial pole start. This misfortune basically guaranteed the championship would go to Wilson if he could stay out of trouble.
An exciting race was still on the docket though as Jacob Leverstein quickly raced out to the lead over the first 35 circuits of the sixty lap affair. The action quickly heated up however as Wilson and Dylonn Fox made their presence known in what became a three wide battle for the lead at one point.
Wilson and Leverstein would swap the lead lap after lap in a thrilling battle with Fox lurking in the distance. A caution on lap 40 would briefly end the tussle for the top spot and bunch the field back up for a restart. 
On the restart Dylan Wilson was able to take command over Dylonn Fox and put some distance between he and the field. After a couple more late restarts the front of the field had many new faces however. Surprisingly, Howard Weaver had charged all the way to fifth with eight laps to go and wasn't ready to go down without a fight.
On the final restart Wilson was able to pull out to a small lead with Fox in toe. Fox seemed content to follow in Wilson's tire tracks and give room to the driver racing for the title with Weaver. Weaver was able to make a couple of bold moves to get into third place but his luck ran out with two to go after hard contact with the outside wall caused him to limp home in fifth.
Wilson would go on to hold off the advances of Dylonn Fox for his series leading fifth win of the year and in the process pick up some great rewards for his season long efforts. Wilson won $200 as well as a $1,000 value WR1 Sim Chassis. In addition, he also earned the opportunity to drive a real car thanks to the Kenny Wallace Dirt Racing Experience after taking home the championship by twelve points.
"I honestly hadn't even thought about it all year (winning the championship) until about the last ten laps tonight," said an exhausted Wilson in victory lane. "It sucks that Howard lost connection there because I know we were gonna race hard and not worry about the points and just try to put on a show and see how we did on the last lap.
"I know (Dylonn) Fox was all over me at the end of the race but I wasn't sure if he was going all out or just being patient but it was fun racing with him too. When you lead these races you just don't want to make a mistake so you tend to get conservative sometimes and it can bite you sometimes if you overdo it.
"I'd like to thank everyone who helped me this season and got these cars dialed in."
Wilson was followed closely to the line by Dylonn Fox, while Vinny Fingers advanced from 10th to 3rd on the night. Kendal Tucker brought home a strong fourth place finish after starting 15th, while Howard Weaver rounded out the top five after advancing from 26th following connection issues.
The Mastell Brothers Trailer Service Inc. Hard luck Award went to Drew Edward Phillips. Phillips won his first heat race at VLR and was running inside the top ten late before finding trouble and finishing 22nd.
Jeremy Capron was the official winner of the Burrberry Designs Hard Charger Award after rallying from a 25th starting spot to finish 10th. Dylan Wilson earned the Team Friday fast lap award on the final lap of the race as he turned a 19.87 lap time.
VLR would like to thank everyone who signed up for the series and those of you at home who tuned in to watch the races. We hope to see you back for our next series!
Race Winner: Dylan Wilson (Started 2nd)
Hard Charger: Jeremy Capron (Started 25th; Finished 10th)
Fast Lap Award: Dylan Wilson (19.87)
Fast Qualifier Award: Howard Weaver (19.67)
FULL A Main Results:
1. Dylan Wilson
2. Dylonn Fox
3. Virgil Graham
4. Kendal Tucker
5. Howard Weaver
6. Leo Pina
7. Jacob Leverstein
8. Jacob Fields
9. TJ Carter
10. Jeremy Capron
11. David Heileman
12. Jason Mynatt
13. Cole Falloway
14. Kyle Miller
15. Lucas Chowning
16. Adam Bush
17. Dalton Conner
18. Eric Hough
19. Ben Nading
20. Trevor Fitz
21. Cody Olsen
22. Drew Phillips
23. Dave Hartman
24. Blake Brown
25. Garrett Niebruegge
26. Ryan Gauntt