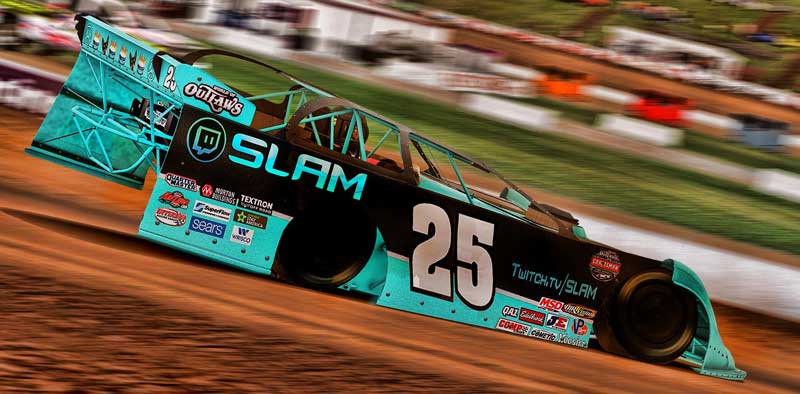 Tuesday May 1, 2018 (Lanier Speedway) - Tyler Ducharme made his name known in a big way at VLR after marching from 10th to win tonight at Lanier in the Super Late Models. Ducharme's previous best finish at VLR was a 17th place at Limaland.
The Vermont driver spent much of the race just outside the top five before making a late charge to the front while working the bottom side of the track. Ducharme passed pole-sitter Brad Moore with 25 laps to go and never looked back on his way to his first career win at VLR.
"I didn't think I had a shot to win this one," said an excited Ducharme in victory lane. "They got piled up there and we got through it. Awesome race and any time you win a race at VLR it's a huge accomplishment. All the top guys, I've never seen anything like it and it means a lot to win. The talent out here is unbelievable."
Austin Carr came out of the caution plagued race with an impressive second place finish for the second week in a row after starting 14th and suffering an early race penalty. Last weeks winner Zakery Rounds brought home a strong third place finish, while young Cole Falloway stormed from 18th to finish fourth. Jacob Fields started and finished 5th despite an up and down night late that he was able to salvage.
Points leader Jacob Leverstein earned the WRT Speedwerx Photography Hard Charger award after charging from 25th to finish 7th and will hold a slim ten point lead over Jacob Fields heading into the final race of the season.
Speaking of Fields, he earned the Team Friday Fast Lap Award with a blazing 13.767 lap time around the bullring. Howard Weaver grabbed the Hindman's Wrecker Service Hard Luck Award after starting 9th and finishing last after a flip on lap three.
Next Tuesday is the VLR season finale in the late models and will be held at the Volusia Speedway Park with 75 laps on the docket!
Race Winner: Tyler Ducharme (Started 10th; Finished 1st)
Hard Charger: Jacob Leverstein (Started 25th; Finished 7th)
Fast Lap Award: Jacob Fields (13.767)
Fast Qualifier Award: Dylan Wilson (13.93)
FULL A MAIN RESULTS:
1. Tyler Ducharme
2. Austin Carr
3. Zak Rounds
4. Cole Falloway
5. Jacob Fields
6. David Heileman
7. Jacob Leverstein
8. Tommy Dutcher
9. Drew Herchko
10. Garrett Niebruegge
11. Dylonn Fox
12. TJ Carter
13. Brad Moore
14. Chris Orencia
15. Virgil Graham
16. Keven Forcier
17. Ian Blanchard
18. Alex Bergeron
19. John Fidler
20. Dylan Wilson
21. Dylan Houser
22. Kyle Morris
23. Logan Roark
24. Josh Phillips
25. Howard Weaver