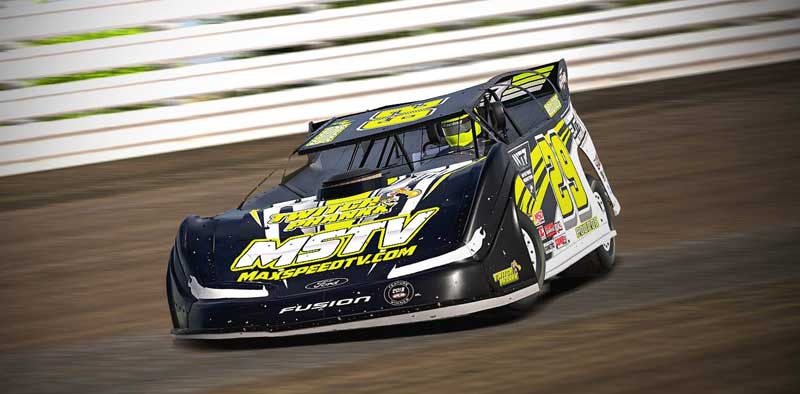 Tuesday April 24, 2018 (Knoxville Raceway) - Fresh off a win two weeks ago at VLR, Zakery Rounds decided he liked the feeling and wanted it again. The Michigan driver did just that in the race of the year for the late models with a last lap pass for the victory.
Rounds was running six with six laps to go, nearly two seconds behind the leader and seemingly out of contention. Much like his win two weeks ago at Limaland however, he would work the cushion better than anyone and run down the leaders who were entrenched in a three-way battle before passing second and third and trading slidejobs with Austin Carr in the last two laps.
Carr developed a push on the final lap which allowed Rounds to cross under him out of turn two for the lead and shoot out to a lead down the backstretch and go on to take his second career win at VLR.
"I'm still in shock after this one," said a surprised Rounds in victory lane. "I knew I was quick, but so were the five or six guys in front of me on that last restart (with 13 laps to go). I didn't think it was going to turn out like this at all. I think everybody in the top five led a lap at some point. But yeah, I was just the lucky one to come out of it on the last lap I guess."
Austin Carr came out of the mayhem with a second place finish after leading virtually the entire race until the closing laps. Tyler Hudson made a strong late charge to come home third after starting 14th, while last weeks winner Jacob Fields brought home fourth after battling for the lead late. Pole-Sitter Dylan Wilson rounded out the top five finishers.
Jason George earned the WRT Speedwerx Professional Motorsports Photography Hard Charger Award after advancing from the back row in 24th to bring home 11th place. David Heileman grabbed the Hindman's Wrecker Service Hard Luck Award after briefly leading late in the race before running out of fuel with just two laps remaining.
Austin Carr picked up the Team Friday Fast lap Award with an 18.348 lap time around the legendary half-mile oval.
Next Tuesday the stars of the Team VLR Late Model Series head to the Lanier Speedway for our first 100 lap feature of the season. Should be a good one!
Race Winner: Zak Rounds (Started 7th; Finished 1st)
Hard Charger: Jason George (Started 24th; Finished 11th)
Fast Lap Award: Austin Carr (18.348)
Fast Qualifier Award: Dylan Wilson (18.50)
FULL A MAIN RESULTS:
1. Zak Rounds
2. Austin Carr
3. Tyler Hudson
4. Jacob Fields
5. Dylan Wilson
6. Howard Weaver
7. Robert Schaeffer
8. Jacob Leverstein
9. Ian Blanchard
10. Dylonn Fox
11. Jason George
12. Garrett Niebruegge
13. Chris Orencia
14. Josh Phillips
15. Virgil Graham
16. TJ Carter
17. Ken Short
18. Dylan Ackart
19. Dylan Houser
20. David Heileman
21. Eric Hough
22. DJ Kilanowski
23. Shane James
24. Brad Dyer
25. Mike Molnar