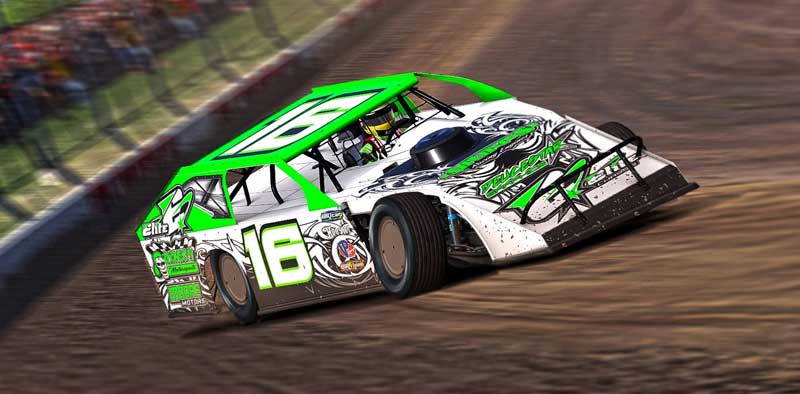 Wednesday April 18, 2018 (Eldora Speedway) - Dylan Houser earned his second career win at VLR tonight, and first in the UMP Modifieds, after a dominating performance over the course of 60 laps at the Eldora Speedway.
The Ocala, FL driver quickly advanced from his fourth starting spot to the point and then proceeded to put a hurting on the rest of the field by checking out to a four second lead when the first caution flag of the night flew on lap 37. 
The first restart of the night with 23 laps to go saw Houser feature similar speed as he roared out to a full second advantage over second running Dylan Wilson. However, Houser would make a mistake on lap 44 and get into the turn one wall.
This allowed Wilson to close in quickly and make a move for the lead. The two would then trade slidejobs for the next couple of laps before making contact which sent Wilson into the wall. Wilson's car then came off the wall and into the unfortunate bystander of Shane James to bring out the second caution.
Houser would then go on to survive one more restart and hang on for his first career win in the Modifieds at VLR, holding off the Late Model Spring Fling winner Tyler Hudson in the process.
"We just kinda rode around saving our stuff for the end," said an excited Houser after the victory. "I feel like we had the car to beat so I figured even if they threw a caution I could cross back under and take the lead back, so I wasn't too worried about it. Hopefully we can become a repeat winner next week."
Tyler Hudson would go on to finish second, followed by Vinny Fingers in third, while the Burrberry Designs Hard Charger Award winner Howard Weaver powered from 19th to 4th to take the prize and maintain a slim point lead.
Shane James was the recipient of the Mastell Brothers Trailer Service Inc. Hard Luck Award after running in the top five most of the night and getting involved in a late race incident.
Dylan Houser not only took the victory but also had a blistering lap of 16.844 to take home the Team Friday Fast Lap Award in the process.
Next Wednesday the stars of the Team VLR UMP Modified Series head back to the Knoxville Raceway for what is always a great show.
Race Winner: Dylan Houser (started 4th)
Hard Charger: Howard Weaver (started 19th; finished 4th)
Fast Lap Award: Dylan Houser (16.844)
Fast Qualifier Award: Kyle Miller (17.014)
FULL A MAIN RESULTS:
1. Dylan Houser
2. Tyler Hudson
3. Virgil Graham
4. Howard Weaver
5. Zak Rounds
6. David Heileman
7. Dylan Wilson
8. Trevor Fitz
9. Jacob Leverstein
10. Blake Brown
11. Garrett Niebruegge
12. Jason Mynatt
13. Shane James
14. TJ Carter
15. Darren Litteral
16. Clay Debban
17. Cody Olsen
18. Kyle Miller
19. Jeremy Capron
20. Brandon Schmidt
21. Tommy Dutcher
22. Drew Phillips
23. Rodney Brown
24. Jordan Wesley
25. Albert Perez