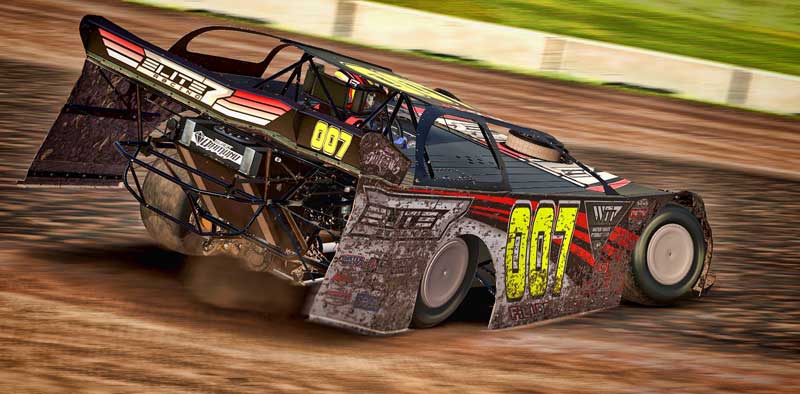 Tuesday April 17, 2018 (USA Speedway) - For the second week in a row we have a first time winner at VLR. Jacob Fields got the job done tonight in a grueling 60-lap battle at the USA Speedway.
Fields started from the pole position and appeared poised to run away with the race from the opening lap as he shot out to a big lead over a hungry pack of drivers. However, it wouldn't be as simple as that when series veteran Dylan Wilson got a great start on the final restart with 22 laps to go to take the lead for the first lead change of the race.
From that point the two drivers would check out over the pack with Wilson holding the advantage until five laps to go when he would jump the cushion in turn one and pound the outside wall. The opening was all Fields needed to take back the lead and then hold off some of iRacing's best for the win.
"I was definitely regretting not taking the outside on that final restart (When Wilson got the lead)," said Fields after the eventful battle. "I was just hoping for a bobble there (from Wilson) and luckily it happened and I was able to get my first win at VLR."
Wilson survived the contact with the wall to hang on to a second place finish, while Howard Weaver brought home a strong third place result. Ryan Flaten overcame a lap one accident to rally for a fourth place finish, while Ian Blanchard nabbed his best late model finish at VLR in several years with a fifth place finish.
Josh Phillips was the recipient of the WRT Speedwerx Professional Motorsports Photography Hard Charger Award after starting 21st and advancing to 12th. Points Leader Jacob Leverstein was the Dee Hindman's Wrecker Service Hard Luck recipient after a lap one incident put him several laps down early and resulted in a 19th place finish.
Jacob Fields not only earned the victory, but also picked up the Team Friday fast lap award with a super fast 21.555 second lap
Next Tuesday the stars of the Team VLR Late Model Series head back to the Knoxville Raceway for what is always a great show.
Race Winner: Jacob Fields (started 1st)
Hard Charger: Josh Phillips (Started 21st; Finished 12th)
Fast Lap Award: Jacob Fields (21.555)
Fast Qualifier Award: Jacob Fields (21.45)
FULL A MAIN RESULTS:
1. Jacob Fields
2. Dylan Wilson
3. Howard Weaver
4. Ryan Flaten
5. Ian Blanchard
6. Tyler Hudson
7. Shane james
8. Zak Rounds
9. Garrett Niebruegge
10. Dylan Houser
11. Lucas Chowning
12. Josh Phillips
13. Virgil Graham
14. DJ Kilanowski
15. Jordan Wesley
16. Drew Phillips
17. Ken Short
18. Dylonn Fox
19. Jacob Leverstein
20. Drew Herchko
21. Joshua Neltner
22. Tommy Champagne
23. Eric Hough
24. Keven Forcier (DNS)