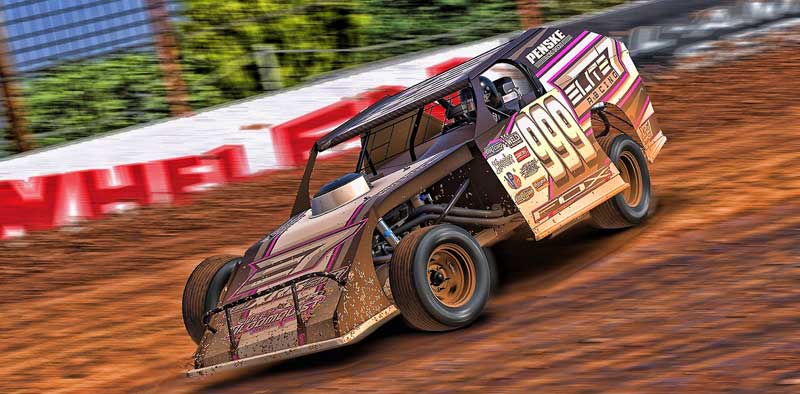 Wednesday, April 11, 2018 (Lanier Speedway) - One week after becoming an instant fan favorite with a stirring rally from the back in the Spring Fling qualifiers, Wisconsin driver Dylonn Fox earned his first career win at VLR in dramatic fashion at the Lanier Speedway.
Fox started from the pole position and led the first 30 laps before Dylan Wilson made a move on the outside of the young driver to take over the top spot. Wilson quickly shot out to a full second lead before encountering heavy lap traffic that allowed Fox to close back in. Fox worked the bottom side while Wilson was hung up behind the lap car of Ben Nading.
On lap 50 of the 75 lap race, Fox was able to work his way past the Bakersfield, CA driver of Wilson to take the lead. Wilson then spent many of the remaining laps stuck behind the lap car of Benjamin Nading while Fox would go on to win by 3.5 seconds over a stacked field of competitors.
"Getting my first win at VLR is huge to me, I mean the best guys on iRacing run this series," said an excited Dylonn Fox in victory lane. "I don't know how to explain it really. It's an amazing feeling and something I've been wanting to check off on the list for quite a while."
Fox and Wilson were followed to the line after the final 65 laps were ran caution free by Garrett Niebruegge, who backed up his career best third place finish at VLR in the late models last night with another third place tonight. Niebruegge was followed by the Burrberry Designs Hard Charger award winner Jacob Leverstein Racing, who rallied from 21st to 4th at the finish, while Trevor Fitz rounded out the top five finishers.
Dylonn Fox picked up the win and the Team Friday Fast Lap Award with a 14.272 on the slick 3/8 mile track surface.
Kendal Tucker was the recipient of the Mastell Brothers Trailer Service Inc. Hard Luck Award after falling from 4th to 23rd at the finish after an early incident.
Next Wednesday the stars of the X.CELERATED VLR UMP Modified Series presented by WR1 Sim Chassis head to Eldora speedway for a 50 lap affair.
Race Winner: Dylonn Fox (started 1st)
Hard Charger: Jacob Leverstein (Started 21st; Finished 4th)
Fast Lap Award: Dylonn Fox (14.272)
Fast Qualifier: Dylonn Fox
FULL A MAIN RESULTS:
1. Dylonn fox
2. Dylan Wilson
3. Garrett Niebruegge
4. Jacob Leverstein
5. Trevor Fitz
6. TJ Carter
7. Cody Olsen
8. David Heileman
9. Zak Rounds
10. Howard Weaver
11. Ryan Flaten
12. Clay Debban
13. Virgil Graham
14. Shane James
15. Chad Wheeler
16. Blake Brown
17. Drew Phillips
18. Lucas Chowning
19. Ben Nading
20. John Litteral
21. Dylan Houser
22. Ryan Gauntt
23. Kendal Tucker
24. Cole Falloway