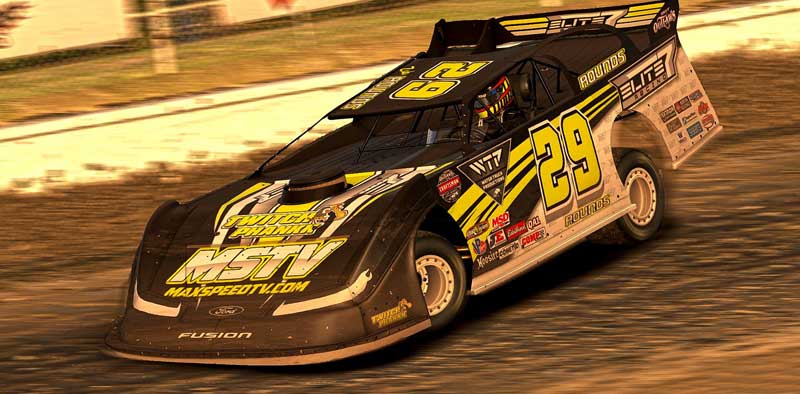 Tuesday April 10, 2018 (Limaland Motorsports Park) - Zakery Rounds brought home his first career victory at VLR in the late models tonight after a frantic run to the finish that saw the #29 machine go from fifth to second in a flash before rocketing to the lead with five laps to go and hanging on for a 1.5 second win.
Rounds hovered around fifth place all race at the 1/4 mile Limaland Motorsports Park on a top-dominant track. Eventually the top began to lose grip and drivers began to work the bottom side. Rounds, however, proved to be one of the few drivers still able to handle the top side and showed incredible speed in the closing laps.
Points leader Jacob Leverstein looked well on his way to leading every lap and winning his first career race before hard contact with the wall with ten laps to go sent him back to fourth. Virgil Graham got the lucky break from Leverstein's mistake and shot from fifth to first in half a lap on the bottom while the drivers in front had to lift to avoid the slowing car of Leverstein.
On the ensuing restart, Graham checked out while Tyler Hudson, Garrett Niebruegge, and Jacob Leverstein had an incredible battle for second place. However, with eight laps to go, Rounds rocketed out of nowhere on the cushion to blow past all four drivers in one fell swoop, going from 5th to 2nd.
The Michigan driver then set his sights on Graham, but it seemed time may run out before he could make his move. It didn't take long for Rounds to prove that would be a false assumption, though, as he quickly muscled his way by Graham on the way to a dominating final stage of a race plagued by caution flags.
"This is the last track I would've pictured myself winning at, let alone at VLR," said Rounds in the winner circle after the race. "I surprised myself really. They left an opening for me up top and squeezed by them (in the battle for second) and then I was surprised when I ran Virgil (Graham) down there at the end. Now I gotta go find my bottle of champagne."
Virgil Graham (Vinny Fingers) held onto second at the finish, while Garrett Niebruegge picked up his best career finish at VLR with a third. Austin Carr finished fourth and earned the WRT Speedwerx Photography Hard Charger award in the process after rallying from 21st. Jacob Leverstein rounded out the top five after leading most of the race.
DJ Kilanowski was the recipient of the Dee Hindman's Wrecker Service Hard Luck Award after starting in 8th and finishing 21st.
Zak Rounds not only earned the victory, but also picked up the Team Friday fast lap award with a blazing fast 12.444 lap time in his late charge to the front.
Next Tuesday the stars of the Team VLR Late Model Series head to the longest track on the schedule in USA Speedway.
Race Winner: Zak Rounds (started 6th)
Hard Charger: Austin Carr (Started 21st; Finished 4th)
Fast Lap Award: Zak Rounds (12.444)
Fast Qualifier Award: Jacob Leverstein (13.04)