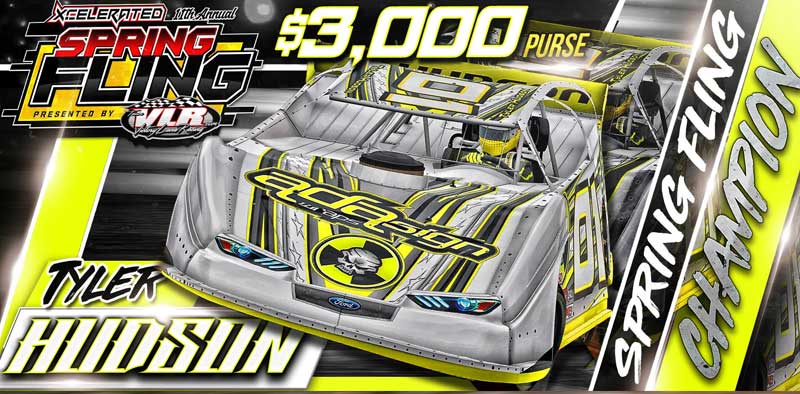 Thursday April 5, 2018 (Knoxville Raceway) - In front of a huge crowd tuned into the biggest race in iRacing Dirt to date, Tyler Hudson powered from the 16th starting spot to take home the victory in an action packed 11th Annual X.CELERATED Spring Fling Presented by VLR from the Knoxville Raceway.
The native Mississippian, and now New Hampshire driver, started deep in the field in 16th and seemed to be content riding around in that range early on before storming to the front with thirty laps to go.
Hudson restarted seventh on lap 69, and by lap 75 he had taken the lead over strong running John Fidler. While most drivers in front of him chose to work the top side of the track, Hudson seized an opportunity to move to the bottom with clean track in front of him in what proved to be the race winning decision.
He would go on to pass cars at will while catfishing on the bottom line before taking the lead for good with 25 to go over Fidler. However, Fidler wasn't going to give up the four-digit payday that easy as he weathered a string of late race cautions to make a final run at Hudson starting with five laps to go.
The Ohio driver in the #02 machine was as close as he could get to the bumper of the #01 of Hudson without making contact with two laps to go, but Hudson was able to stave off one last rally for the lead at the end. Hudson capped the impressive rally with a two-car length win to pick up the $1,000 top prize against the best of the best.
"Man I have been thinking about this race all day, the last few days really," said a jubilated Tyler Hudson in victory lane. "These are the best of the best out here so to come out here and win this race is crazy. At the beginning of the race I fell back to like 24th and I was actually trying to go forward but they were just too good.
"Finally I stayed to the bottom and the thing just took off there. I was just trying so hard to focus and would tell myself 'OK, I've won a lot of big races but then I'd go into the next corner and light the tires up because of nerves.' I just want to thank VLR and everyone who put all this on and all the promotion that goes on for this stuff."
Hudson was followed closely to the line by Fidler, who picked up $400 for his efforts. Matt McKinney crossed the line in third and in the process picked up the Hard Charger award after advancing from 23rd to 3rd for a podium finish. McKinney was followed to the line by Vinny Fingers and Alex Bergeron rounding out the top 5 in an incredible showdown in the closing laps.
The D1RT Racing Server #1 Feature Winner $50 Award went to Alex Bergeron, while the Server #2 Feature Winner $50 Award went to Dylan Houser.
All of us at VLR would like to thank RaceSpot, Off Camber TV, iRacing and Ben Shelton for coming on board and making this an entertaining and legendary broadcast.
We would also like to publicly thank KT King, Rocky Battenfield, Tommy Dutcher, Kyle Morris, Stephen Kalivoda, Ryan Martin, Howard Weaver, Chris Brenner, Blake Durflinger, Tyler Burrow, Barry Braun, Ed Livingston, Ben Shelton, Jason Friday Corder, and everyone else along the way that helped for the many, many hours that went into promoting, marketing, and adminning this event. These guys volunteered to put this show on including throwing in some of their own money to the purse for the love of sim racing and racing in general and without their hard work and dedication this event would not have been a success.
We hope to see you all back in the near future for more special events as well as for our standard weekly racing program!
Race Winner: Tyler Hudson (started 16th)
Hard Charger: Matthew McKinney (23rd to 3rd)
Fast Lap Award: Spencer Smolders (18.392)
Fast Qualifier Award: Server #1 Alex Bergeron (18.670), Server #2 Dylonn Fox (18.55)
FULL SPRING FLING A MAIN RESULTS:
1. Tyler Hudson
2. John Fidler
3. Matthew McKinney
4. Virgil Graham
5. Alex Bergeron
6. Drew Herchko
7. Tyler Ducharme
8. Chase Cabre
9. Randall Carter
10. Jason George
11. Zak Rounds
12. Mike McKinney
13. Dylan Houser
14. Austin Carr
15. Adam Elby
16. Josh Phillips
17. Garrett Niebruegge
18. Shane James
19. Howard Weaver
20. Marcus Mays
21. Spencer Smolders
22. Kyle Steffens
23. Jacob Fields
24. Cole Neuhalfen