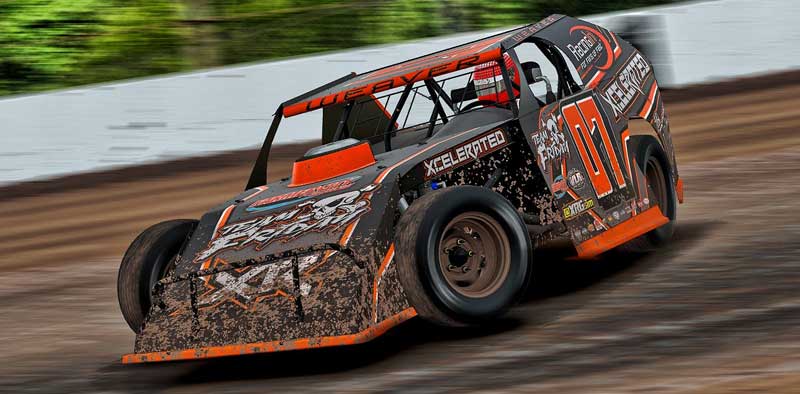 Wednesday, April 4, 2018 (USA International Speedway) - Crossville, TN driver Howard Weaver used some perfectly timed restarts to jump out to a lead tonight at USA Speedway en route to his second victory of the season in the UMP Modifieds.
Weaver started from third and quickly worked his way to second after a brief battle with Zakery Rounds. He then set his sights on points leader Dylan Wilson, who was fresh off a win last week at Knoxville. Wilson maintained a lead of approximately eight car lengths for much of the race but Weaver used strong restarts to work past the California driver.
With 20 laps to go in the 40 lap affair, Weaver got another great restart after a caution and was leading Wilson heading into turn two. The caution would come out a few seconds later and the pass would end up being the winning move as Wilson would pull off with engine trouble. Weaver went on to hold off a strong late rally from Kendal Tucker, who earned his best career finish at VLR.
"It's always good to win especially with how tough this series is," said a grateful Weaver in victory lane. "I just wish that Dylan (Wilson) had been able to finish the race because we were about to have a great battle. I'm happy to win but I feel bad for him because he's one of the best on here and it's always fun to race with him."
Wilson's DNF gave the points lead back to Weaver after seven races. Following Tucker to the line in third was Dylonn Fox, who shook off a string of bad luck at VLR on his way to his best career finish in the series.
Jeremy Capron was the winner of the Burrberry Designs Hard Charger award after working his way from 15th all the way to fourth at the finish despite reporting a strong vibration in the rear end early in the race. Tommy Dutcher brought home the final spot in the top five after a strong rally from 14th.
Dylan Wilson earned yet another Team Friday Fast Lap Award with a 23.01 on the slick 3/4 mile track surface.
Zakery Rounds and Dylan Wilson were both the recipients of the Mastell Brothers Trailer Service Inc. Hard Luck Award after starting on the front row and recording DNF's on the night.
Next Sunday the stars of the X.CELERATED VLR UMP Modified Series presented by WR1 Sim Chassis head to Lanier Speedway for a 60 lap battle!
Race Winner: Howard Weaver (started 3rd)
Hard Charger: Jeremy Capron (Started 15th; Finished 4th)
Fast Lap Award: Dylan Wilson (23.01)
Fast Qualifier: Clay Debban (22.60)
FULL A MAIN RESULTS:
1. Howard Weaver
2. Kendal Tucker
3. Dylonn Fox
4. Jeremy Capron
5. Tommy Dutcher
6. Virgil Graham
7. David Heileman
8. Kyle Miller
9. Jason Mynatt
10. Leo Pina
11. Albert Perez
12. Blake Brown
13. John Litteral
14. Clay Debban
15. Ryan Gauntt
16. Cole Neuhalfen
17. Eric Hough
18. Garrett Niebruegge
19. Dylan Wilson
20. Zak Rounds
21. Dylan Houser
22. Kyle Morris
23. Shane James
24. Dave Hartman - Disqualified