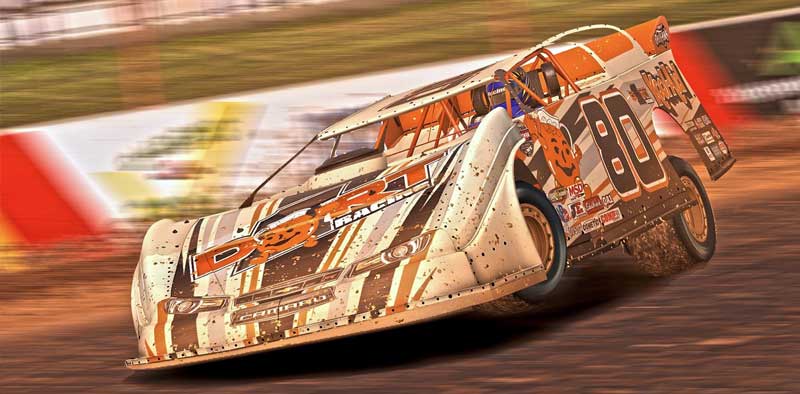 Tuesday April 3, 2018 (Lanier Speedway) - For the second week in a row, a driver named Dylan took home the top spot in the X.CELERATED VLR Late Model series. This time, however, it was Bakersfield, CA driver Dylan Wilson grabbing the win after 75 laps at the Lanier Speedway.
Wilson led every lap despite some intense moments in the heavy lap traffic that was abound in the last half of the race. Wilson held off Brandon, FL driver Austin Carr for the victory. The win was Wilson's first in the Late Models this season despite being very familiar with victory lane at VLR in the DIRTcar UMP Modified series where he's leading the points.
"Our Kool-Aid machine was on rails tonight," said Wilson in Lanier Victory Circle. "We've struggled in the late models all season. We went to work this week on a setup and man we got it right. If we can do that the rest of the season I'll be happy."
Wilson crossed the line just over two seconds ahead of Carr. At one point Carr was as low as ninth after starting in second and getting out of the groove early. He would then battle his way back through the pack to settle home with another strong finish.
Virgil Graham completed the top three while Tyler Hudson charged from 19th to 4th after an eventful race. Last weeks winner Dylan Houser brought home a strong top five finish after starting 11th.
Justin Norwood earned the WRT Speedwerx Professional Motorsports Photography Hard Charger award after rallying from shotgun on the field in 26th to bring home ninth. Dylonn Fox was the unfortunate winner of the Dee Hindman's Wrecker Service Hard Luck award after being taken out in an early incident inside the top five and finishing 25th.
Dylan Wilson also earned the Team Friday fast lap award with a blistering 14.07 lap around the 3/8 mile dirt oval that was extremely slick from the drop of the green flag.
Next Tuesday the stars of the Team VLR Late Model Series head to the short track and high banks of the Limaland Motorsports Park for the second time this season for a 70-lap affair.
Race Winner: Dylan Wilson (started 1st)
Hard Charger: Justin Norwood (started 26th; finished 9th)
Fast Lap Award: Dylan Wilson (14.07)
Fast Qualifier Award: Howard Weaver (13.63)