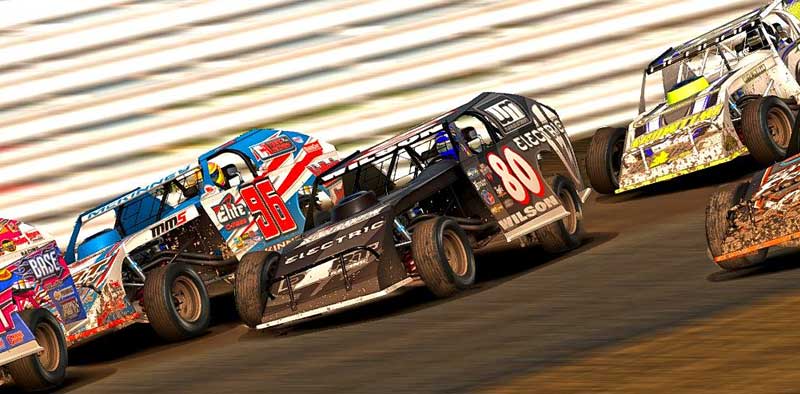 Wednesday, March 28, 2018 (Knoxville Raceway) - Points leader Dylan Wilson showed why he's atop the standings in a phenomenal battle for the win at Knoxville Raceway tonight. Wilson picked up the win after 50 grueling laps with lots of lead changes and two and three wide racing all night.
Wilson started from the pole but had an eventful race battling with a who's who of sim racing for the win. Halfway through the race the California driver was entrenched in battle with Mike McKinney, Jacob Leverstein, and Howard Weaver for the top spot.
Contact with McKinney on a restart on lap 24 nearly proved disastrous for Wilson. The #80 machines right rear made contact with the left front of McKinney shooting both drivers into the wall down the front stretch. Leverstein quickly snuck by to the lead while Wilson briefly dropped to fourth.
McKinney was able to hang onto second after the chaos and eventually took back the top spot from Leverstein. Meanwhile, Wilson closed back in on the leaders and set off an epic slidejob battle with McKinney for the top spot. With 13 to go, Wilson was able to clear McKinney for good to take home his third win of the season.
"I'll be here (in victory lane) every week if they let me" said Wilson after the race. "My car felt awesome on the cushion so I'm glad it really came in after I got in the wall there with Mike (McKinney). It killed the right front but the cushion seemed to help with that. When you win one of these VLR races you know you're doing something though."
Wilson was followed distantly to the line by Weaver, who advanced from 10th to 2nd to maintain his runner up spot in points. Leverstein brought home third for his best finish of the season. He was followed by Trevor Fitz in fourth and McKinney in fifth.
Tyler Hudson earned the Burrberry Designs Hard Charger Award in his first race at VLR, advancing from 19th to finish 6th when the dust settled. Jeremy Capron was the recipient of the Mastell Brothers Trailer Service Inc. Hard Luck Award after the local Iowan driver ran out of fuel on the final lap to finish 17th after running as high as fourth.
In addition to the win, Wilson landed yet another Team Friday Fast Lap Award in the A Main by being the only driver to break into the 19 second bracket with a 19.918 on the final lap.
Next Wednesday the stars of the X.CELERATED VLR UMP Modified Series presented by WR1 Sim Chassis head to the USA Speedway for 40 laps of battle in VLR's first visit there in quite some time.
Race Winner: Dylan Wilson (started 1st)
Hard Charger: Tyler Hudson (started 19th; finished 6th)
Fast Lap Award: Dylan Wilson (19.918)
Fast Qualifier: Dylan Wilson (19.808)
1. Dylan Wilson
2. Howard Weaver
3. Jacob Leverstein
4. Trevor Fitz
5. Mike McKinney
6. Tyler Hudson
7. Chad Wheeler
8. Virgil Graham
9. Clay Debban
10. Mike Molnar
11. Darren Litteral
12. Ryan Gauntt
13. TJ Carter
14. Marc Molnar
15. Albie Perez
16. Drew Phillips
17. Jeremy Capron
18. Dave Hartman
19. Blake Brown
20. Kyle Morris
21. Roman Wesley
22. Shane James
23. Austin Carr
24. Jordan Wesley