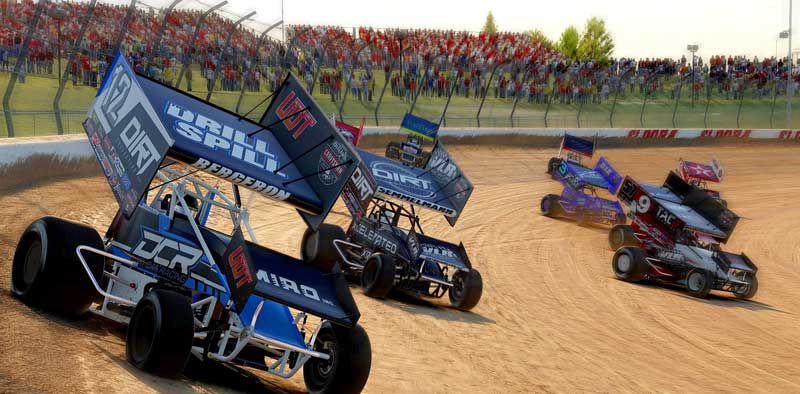 Sunday, March 25, 2018 (Eldora Speedway) - The Canadian prodigy Alex Bergeron showed his strength in the sprint car by running away from the competition to pick up his third victory in the X.CELERATED Sprint Car Series presented by Dirt Collective.
Bergeron started the race on the pole and fended off challenges from the brother duo of Dillon Semmelmann and Austen Semmelmann and from Waterloo, NY driver Nick Cooper. Austen Semmelmann and Bergeron were embroiled in a battle 20 laps into the race, but following a restart an incident caused Austen Semmelmann to fall a lap down. 
Following Austen Semmelman's wreck, Bergeron did not have a challenger in his zip code as he took home a victory over teammate David Heileman by six seconds.
In a post-race interview with OCTV, winner Bergeron credited his pole position start as a big part of his victory. "You want to put yourself in a good position on these tracks," Bergeron said. "You have to be patient and wait for someone to make a mistake and make a move."
David Heileman and Anthony Lopresto would finish second and third to fill out the podium and Josh Phillips and Tommy Rowe crossed the line in fourth and fifth respectively. 
Josh Phillips landed the DIRT All-Access Hard Charger award after climbing from his 12th starting position to finish 4th.
Alex Bergeron earned the Team Friday Fast Lap Award with a smooth 13.632 second lap on the half-mile oval.
Next Sunday the stars of the X.CELERATED Sprint Series presented by Dirt Collective head to Knoxville Raceway for an April Fool's Day clash.
Race Winner: Alex Bergeron (started 1st)
Dirt All Access Hard Charger: Josh Phillips (started 12th; finished 4th)
Team Friday Fast Lap Award: Alex Bergeron (13.632)