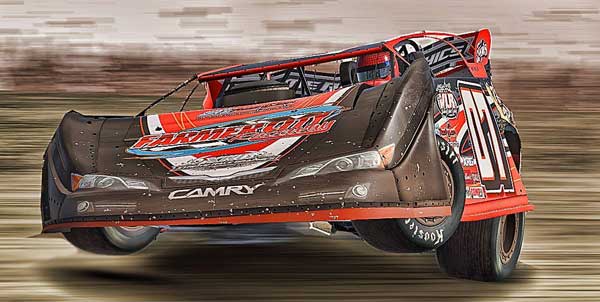 VLR members had an overall successful night one of the iRacing World of Outlaws Craftsman Late Model Series and World of Outlaws Craftsman Sprint Car Series qualifying series races last night from Eldora, despite a recent overall update that has presented caution heavy racing for the most part.
The qualifier series is a 5 week series where drivers will compete to finish in the top 35 in each series points and be awarded a Pro License to compete in the official WoO series that start in May, with over $34,000 in cash prizes up for grabs. Over 700 total drivers attempted to enter the two series last night.
After night one, Howard Weaver, Austen Semmelmann, T.J. Carter, and Virgil Graham are all in the top 25 in points in the late models out of nearly 400 drivers that attempted. Howard Weaver won his race while the others logged top three finishes in theirs.
In the Sprint Cars, Alex Bergeron Racing, Nick Cooper, Dillon Semmelmann, and Howard Weaver are all in the top 11 in points after week one of action, which saw 380+ drivers compete. Bergeron, Cooper, and Semmelmann all won their opening races, while Weaver finished second in his after a last minute slidejob gave Ricky Thornton Jr. the win.
Overall it was a great opening night and if it keeps up VLR should have some top talent going for the prizes in the official WoO Series in May!