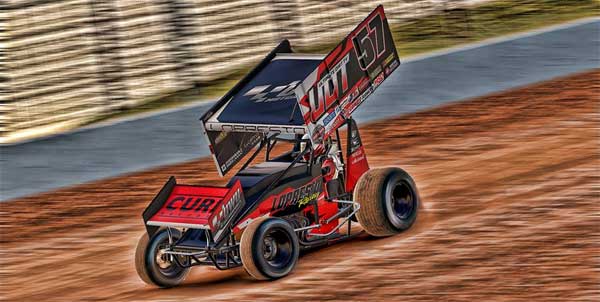 Sunday March 18, 2018 (The Dirt Track at Charlotte) - Michigan's Anthony LoPresto picked up his first career VLR win in exciting fashion tonight in an incredible battle to the end tonight at the X.CELERATED VLR Sprint Car Series presented by Dirt Collective.
LoPresto started third and quickly worked his way to the top spot before giving the lead back to outside pole sitter Dillon Semmelmann. Semmelmann would lead much of the race from there as LoPresto faded to third behind Austen Semmelmann.
However, once the cushion came in LoPresto was able to maneuver his #57 410 Sprint Car back to the point with 12 laps to go. He would then go on to survive an intense finish by holding off the Semmelmann brothers for the win. 
"That was like a roller coaster race there," said an excited LoPresto in victory lane. "Started off third and kinda got lucky there with Austen on the start. I heard it was three wide so that was pretty cool and we all survived. Track was definitely changing all night but it seemed pretty racy so it was a fun race for sure."
LoPresto was followed to the line by Dillon Semmelmann after Semmelmann made contact with older brother Austen coming to the white flag. Semmelmann led the most laps of the race but lost another heart-breaker as he searches for his first career VLR win. Weston Newell brought home third for his best career finish, while points leader Nick Cooper battled home to fourth. The most recent VLR Late Model Series winner Austin Carr brought home a strong fifth place finish.
Austin Matthews brought home the DIRT All-Access hard charger award after advancing ten positions from 16th to 6th at the finish. Austen Semmelmann scored the Team Friday Fast Lap Award with a blistering 13.628 second lap in the closing laps
Howard Weaver was the winner of the 360 Sprint Car feature after going two for two in races he's attempted this season. Weaver restarted 7th with five laps to go and worked the cushion for the win after leader Rhett Starnes was disqualified.
Next Sunday the stars of the X.CELERATED VLR Sprint Car Series presented by Dirt Collective head to the high banks of Eldora for exciting dirt track action.
410 Race Winner: Anthony LoPresto (started 3rd)
Hard Charger: Austin Matthews (started 16th; Finished 6th)
Fast Lap Award: Austen Semmelmann (13.628)
360 Race Winner: Howard Weaver (started 9th)
Full A Main results:
1. Anthony LoPresto
2. Dillon Semmelmann
3. Weston Newell
4. Nick Cooper
5. Austin Carr
6. Austin Matthews
7. Michael Sheridan
8. Austen Semmelmann
9. Dylan Wagner
10. Shane James
11. Bradley Casch
12. Tommy Champagne
13. Cole Neuhalfen
14. Lewis Hewett
15. Josh Phillips
16. David Heileman
17. Alex Bergeron
18. Trampas Kolthoff