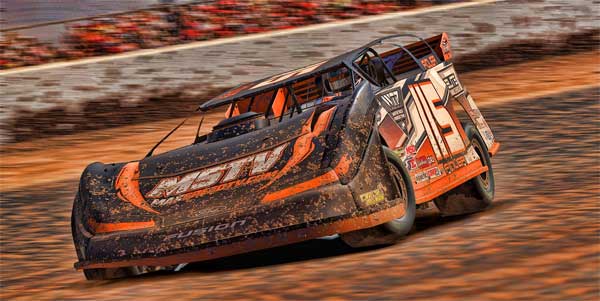 Tuesday February 27, 2018 (Eldora Speedway) - Elite7Racing driver John Fidler took home his first career VLR Dirt Late Model win on Tuesday night after making it through an incredible five wide battle for the lead at one point to take home the win against the top drivers on dirt in iRacing.
It was anything but easy for Fidler, however, as he had to work his way through the B Main to even make the show. Rolling off the 50 lap feature from 18th, the home-state hero put on a show for the Eldora fans on his way to the victory in one of the wildest races we've seen in a long time.
"I don't know how many times I was almost 4 or 5 wide coming through the field," Fidler said in the post race interview. "They went four wide for the lead and it looked like they were all going to make it through somehow but then just a big mess happened in turn one. I was able to get on the brakes and turn down and miss it and get the win."
On the ensuing restart Fidler was able to take the lead from Mike Molnar and hold him off for the victory. Molnar charged from 13th to finish second. Dylan Wilson, David Heileman, and Jacob Leverstein rounded out the top 5 in a strong field of drivers.
In addition to the win, Fidler earned the WRT Speedwerx Professional Motorsports Photography Hard Charger award after coming from 18th to first. Howard Weaver got the Hindman Wrecker hard luck award after starting from the pole and finishing 14th after a wreck. 
Dylan Wilson won his third straight Team Friday Fast Lap Award by clocking in a 16.304 lap time on lap 16, over a tenth faster than anyone else.
Next Tuesday the stars of the X.CELERATED Late Model series will head to the brand new The Dirt Track at Charlotte for the first time ever!
Results:
Race Winner: John Fidler (started 18th)
Hard Charger: John Fidler (18th to 1st)
Fast Time: Dylan Wilson (16.304)
Full A Main Results:
Super LM A Main
Pos Driver
1 John Fidler
2 Mike Molnar
3 Dylan Wilson
4 David Heileman
5 Jacob Leverstein
6 Marc Molnar
7 Lucas Chowning
8 Justin Norwood
9 Zak Rounds
10 Ken Short
11 Ian Blanchard
12 Josh Phillips3
13 Tyler Collett
14 Howard Weaver
15 Virgil Graham
16 Robert Schaeffer
17 Jacob Fields
18 Drew Herchko
19 Chris Orencia
20 Weston Newell
21 Drew Phillips
22 Dustin Sizemore
23 Joshua Neltner
24 Garrett Niebruegge