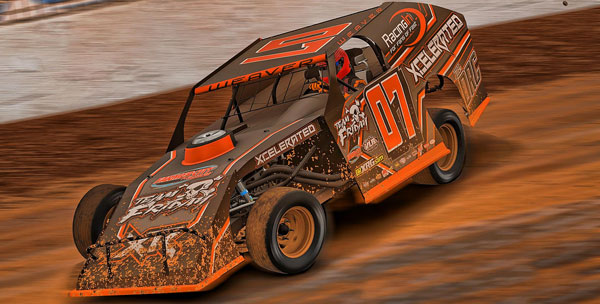 Wednesday, March 14, 2018 (The Dirt Track at Charlotte) - Tennessee driver Howard Weaver shook off one of the worst slumps of his career tonight by dominating in VLR's first ever visit to the Dirt Track at Charlotte in the modifieds.
Weaver became the fourth different winner in the first four races of an extremely competitive series by taking the top spot. He shook off a DNF last week at Limaland and came back strong to lead all fifty laps of an exciting race that featured lots of passing and battles throughout the stacked field.
"I was starting to wonder if I was ever going to win another one of these," said a relieved Weaver in victory lane. "It feels awesome to finally shake the monkey off my back and hopefully this will start to turn our luck around. I was just happy to even finish a race at this point so this is really good. It was killing my confidence getting caught up in trouble so much."
Weaver was followed to the line by Virgil Graham in second and California's Kyle Morris in third. The third place finish was the best of Morris' career at VLR, and he did so from his 16th place starting position. 
Not to be outdone, however, was points leader Chad Wheeler as he picked up the Burrberry Designs Hard Charger award after advancing from 23rd to 4th to hang on to the championship lead. Dylan Wilson brought home an impressive top five as well after storming from 19th to 5th when the dust settled.
Howard Weaver also picked up the Team Friday Fast Lap Award after blistering the 4/10 mile track in 15.945 seconds in the waning laps of the feature. Weaver was the only driver to crack the 15 second bracket and laid down a lap two tenths faster than the next fastest driver. 
Last weeks winner Mike McKinney was the recipient of the Mastell Brothers Trailer Service Hard Luck award after being caught up in a couple of accidents which ended his night early.
Next Sunday the stars of the X.CELERATED UMP Modified Series presented by WR1 Sim Chassis heads to the always exciting Volusia Speedway Park for 50 laps of intense racing action.
Race Winner: Howard Weaver (started 1st)
Hard Charger: Chad Wheeler (Started 23rd; Finished 4th)
Fast Lap Award: Howard Weaver (15.945)
Fast Qualifier: Dylan Wilson (16.16)
Full A Main results:
1. Howard Weaver
2. Virgil Graham
3. Kyle Morris
4. Chad Wheeler
5. Dylan Wilson
6. David Heileman
7. Greg Thompson
8. Blake Brown
9. Lucas Chowning
10. Shane James
11. Mike Molnar
12. Garrett Niebruegge
13. Marc Molnar
14. Darren Litteral
15. Josh Phillips
16. Albert Perez
17. Mike McKinney
18. Tommy Dutcher
19. TJ Carter
20. Jacob Leverstein
21. Alex Bergeron
22. Adam Bush
23. Dylan Houser
24. Jeremy Capron
25. Trevor Fitz