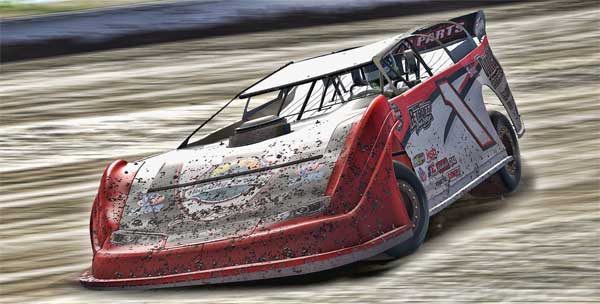 Tuesday, March 13, 2018 (Limaland Motorsports Park) - Austin Carr snags his first career VLR win in impressive fashion by taming the 1/4 mile bullring of Limaland Motorsports Park Tuesday night in the dirt late models after 60 laps of mayhem.
Carr became the fourth different winner in four races this season in the late models at VLR. Even more impressive, all four late model winners this season picked up their first late model series wins ever at VLR, showing the parity within the series that anyone can win on any given week.
Carr's run to the checkers was made even more impressive after he started 13th on the grid before slowly working his way to the front.
"I knew in the beginning the bottom was gonna be there, but a lot of people were trying the top," said Carr in victory lane. "I was just taking my time from there picking them off and that's all she wrote from there."
Former points leader Dylan Wilson recovered from a DNF last week to bring home a strong runner up finishing after challenging for the lead most of the race, despite an early incident sending him toward the back. Drew Herchko grabbed his best career VLR finish with a 3rd, followed by Justin Norwood and John Fidler rounding out a stacked top five.
Chase Cabre grabbed the WRT Speedwerx Professional Motorsports Photography Hard Charger award after powering from the back row to finish 7th, an advancement of 16 positions.
Drew Herchko earned the Team Friday Fast Lap Award by working the top cushion for a screaming 12.397 lap time late in the race. T.J. Carter was the unfortunate recipient of the Dee Hindman's Wrecker Service Hard Luck award after starting from the pole and retiring in 20th, 19th laps down.
Next Sunday the stars of the X.CELERATED Dirt Late Model Series will head to Knoxville Raceway for 50 laps of mud-slinging action!
Race Winner: Austin Carr (started 13th)
Hard Charger: Chase Cabre (Started 23rd; Finished 7th)
Fast Lap Award: Drew Herchko (12.397)
Fast Qualifier: Justin Norwood (12.700)
Full A Main results:
1. Austin Carr
2. Dylan Wilson
3. Drew Herchko
4. Justin Norwood
5. John Fidler
6. Virgil Graham
7. Chase Cabre
8. David Heileman
9. Howard Weaver
10. Garrett Niebruegge
11. Marc Molnar
12. Jacob Leverstein
13. Mike Molnar
14. Dylan Houser
15. Jason George
16. Dylonn Fox
17. Tyler Ducharme
18. Brandon Schmidt
19. Josh Phillips
20. TJ Carter
21. Zak Rounds
22. Shane James
23. Jordan Wesley
24. Jacob Fields