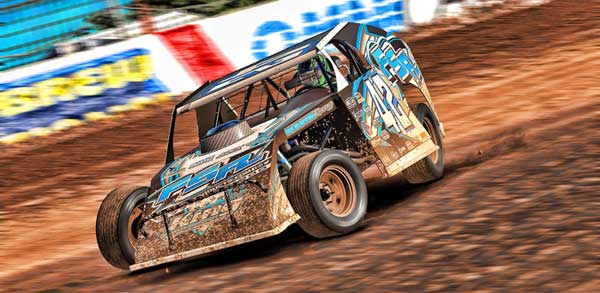 Wednesday February 28, 2018 (Lanier Speedway) - Pennsylvania driver Virgil Graham (Vinny Fingers) continued the trend of first time VLR winners this season by taking advantage of mid-race contact between California driver Dylan Wilson and Mississippi's Travis Marsh to sneak by and then run away with his first career win at VLR tonight.
Graham ran in third place for much of the race before a restart after one of the three cautions in the 50 lap feature brought trouble in front of him. Then leader Wilson and second running Marsh pinched together on the backstretch sending Marsh spinning. Miraculously the caution didn't wave, but Graham seized the opportunity to sneak past for the victory.
"It looked like they got together after the restart and I saw an opportunity down low and took it," said a smiling Graham in victory lane. "After that the car was just good and I don't know if it was something I was doing myself or if it was just the car but I really felt like I was the fastest car tonight."
Graham went on to distance himself from the pack by over a second at the finish, with Wilson being the second place finisher. Oklahoma driver Chad Wheeler Racing earned his best career VLR finish with a strong third place after an intense side-by-side battle with Wilson for second in the waning laps. Quebec's Alex Bergeron came home in fourth after starting 13th, and Virginia's Jacob Leverstein rounded out the top 5.
Leo Pina earned the Burrberry Designs Hard Charger award after quietly working his way up from 20th to 10th in the finishing order. Travis Marsh was the Mastell Brothers Trailer Service Inc. Hard Luck Award driver after seeing his chances of a win go up in smoke after the late incident with Dylan Wilson. Marsh still salvaged an 11th place finish after starting 3rd.
Chad Wheeler earned his first Team Friday Fast Lap Award at VLR with a blistering 14.51 lap time set on lap four.
Next Tuesday the stars of the X.CELERATED UMP Modified series presented by WR1 Sim Chassis will head to the brand new Limaland Speedway for the first time ever! We can't wait!
Race Winner: Virgil Graham (started 4th)
Hard Charger: Leo Pina (20th to 10th)
Fast Qualifier: Howard Weaver (14.65)
Full A Main Results:
1. Virgil Graham
2. Dylan Wilson
3. Chad Wheeler
4. Alex Bergeron
5. Jacob Leverstein
6. Howard Weaver
7. Garrett Niebruegge
8. Blake Brown
9. David Heileman
10. Leo Pina
11. Travis Marsh
12. Trevor Fitz
13. Darren Litteral
14. Zak Rounds
15. Justin Norwood
16. Brandon Schmidt
17. Josh Phillips
18. Lucas Chowning
19. Kendal Tucker
20. TJ Carter
21. Jeremy Capron
22. Albert Perez
23. Kyle Morris
24. Dylonn Fox