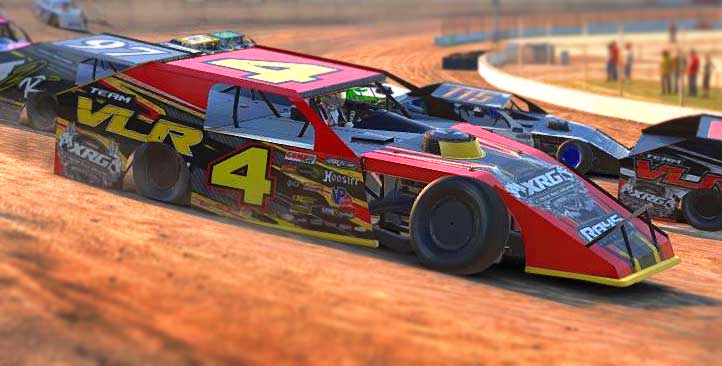 (MECHANICSBURG, PA) October 23, 2017 - Justin Norwood made the trip up to Williams Grove Speedway on Monday night to claim his first career win in the Team VLR UMP Modified Series in a flag-to-flag victory over a record breaking field of 69 drivers.
"This is pretty awesome," said Norwood. "I really love to run the bottom of this race track but I knew I was gonna have to move to the top at some point. Hopefully we can go do the same on Wednesday night in the late models. It feels great to win this one. Thanks to VLR and Off Camber TV for the broadcast, and everybody who shares and promotes everything. This is a really cool deal. The competition in this stuff is unreal, I don't know of many real life places you can go with competition like this."
Norwood, who used a good draw in the invert to help position himself to a pole starting spot in the feature, was able to hold off challenges from several drivers during the 50 lap event to claim his first Mod Madness series victory. Norwood spent much of the race fighting off the advances of Jacob Leverstein as the two battled nose to tail. 
Leverstein's shot at a victory dissipated quickly after a restart with 16 laps to go however when Austen Semmelmann pushed up the track on the back straightaway and clipped the front end of Leverstein. The result was a massive pile-up involving nine cars including the #115 UMP Modified of John Fidler ending up on his roof.
On the ensuing restart Norwood was able to utilize the top side to remain out front ahead of Semmelmann and Ryan Flaten, who was making his first start at the VLR series. The final caution of the night came out with twelve laps to go and Norwood would go on to win over Semmelmann and Flaten in the top three.
"I'm not sure what happened in that incident on the back stretch," said Semmelmann after the race. "I'm lucky I didn't get caught up in it. I know I may have caused it but I'll need to go back and watch it. Sorry to Jacob if I did cause it. The car wasn't very good at the end but we managed to hang on for a good finish.
"Justin was on rails. He was rolling the top really good. I felt like I was a little better than him in one and two but he was killing me off four. I lost all forward drive there."
Ryan Flaten, despite being well-known through much of the sim racing world, was making his first career start at VLR and made off with an impressive third place run at a track he has ran very well at in the past. Flaten maneuvered his car as well as anyone along the bottom of the slick Williams Grove surface and was able to avoid trouble to cap off a great run.
"Every restart we got a good start," said Flaten. "Austen and the 777 (Leverstein) got together with about 15 to go and I got a piece of that so the front end was messed up a little. I just wish we had about 12 more laps though because about 7 laps after each restart our car would come in but just not enough green flag runs there at the end. The car kept getting better and better but to come home third out of like 80 cars is pretty cool."
The race was slowed by five cautions over the course of the fifty lap event, with most of them coming in the last twenty laps. Norwood was able to get good restarts each time and was challenged heavily for the lead several times to no avail. Terry Gray, who sat quick time in qualifying on the night, came home in fourth once the dust settled. Florence, KY driver Josh Phillips earned the Bakerbuilt Engines Hard Charger award after another strong run propelled him to a fifth place finish after starting 20th.
Garrett Niebruegge, Derick Walker, Jeremy Capron, Dillon Crook, and Jacob Leverstein all had strong runs to round out the top ten.
The Team VLR UMP Modified tour rolls on next Monday night as the tour pays visit to Eldora Speedway for more exciting racing action as only two races remain. See you there!