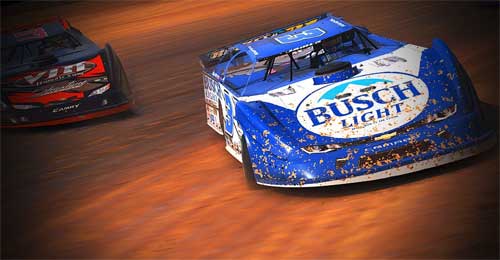 BRASLETON, GA (September 14, 2017) - With 27 of sim racing's top drivers behind him and a steady line of lapped traffic ahead of him, Shane James had to work extra hard to pick up his first career victory at VLR in the Super Late Models on Wednesday night.
The Bright, IN driver blistered the 3/8" mile red-clay oval with a 13.704 lap time in qualifying to earn the pole over Howard Weaver for the 100-lap main event. However, Weaver would use a great initial start to power to the lead on lap three after battling side-by-side until clearing James. 
Weaver then went on to lead the next 32 laps before difficulties in lap traffic allowed James to make his move and take over the top spot for good. James would stretch the lead to as much as five seconds at one point, before crossing the finish line for the final time 2.5 seconds ahead of Weaver in a race that went flag to flag without a single caution.
"I felt like my car stayed good for the most part and his (Weaver's) was fading a little bit there," said James in victory lane. "My car really felt good though, started rolling good around lap 40 or so. Everybody did good tonight for sure at racing clean and giving room."
James previous three trips to compete in VLR events resulted in a third place finish each time. However, this time he was able to get over the hump to put his dirt late model in victory lane against some of the top drivers in the business in dominating fashion. James used every line the racing surface had to offer to work his way past Howard Weaver to take over the top spot, and then again as he weaved through lap traffic en route to a dominating victory before eventually settling on running inches from the outside wall.
James' Shepherd Excavating/Busch Light/HRE Motorsports Race Car finished the caution-free race with an advantage of 2.582 seconds over the previous weeks winner Howard Weaver. 
Justin Norwood maintained his runner up position in the point standings with his third straight top three finish to open the season. Eric Fargo powered from his 11th starting spot to finish fourth, and Jacob Leverstein rounded out the top five finishers.
James was fast all night leading up to the main event, setting quick time in hot laps and then backing it up with a blistering qualifying lap. Despite dropping to second place for the first 1/3 of the race, James was confident he could get back to the top spot.
"This feels great, especially having all these good guys here behind us," said James. "My right arm was cramping up bad there during the race but I figured if we went 50 laps without a caution that we'd go the whole way (green flag) and we did. It's just hard to pass and you had to be real careful, so I'm glad to hang on for the win. I knew we had a shot to win even though Weaver got a good jump on us, and it was a long race so I just tried to be patient until the car came to us."
A top contender at VLR week in and week out, Howard Weaver launched from his outside pole starting position to lead the first 33 laps ahead of James. His pace would slow during the middle portion of the race however, and he was forced to settle for a runner-up position for the first time this season.
"It was a great race tonight, Shane did a great job getting that thing hooked up and left us," said Weaver, who won the first two races of the VLR season coming into tonight's race. "I can't believe we went 100 laps without a caution. It would've been nice to have one or two just to relax and regroup but it just shows the caliber of drivers we have racing here. Shane got by me in lap traffic but it was gonna happen sooner or later anyway because he was flying there midway through the race."
With his third consecutive top-three VLR Dirt Late Model Series finish, Norwood kept his recent hot streak rolling at VLR with a strong run.
"That was a fun race man, it was tough," said Norwood after the race. "You had to fight for everything you could get tonight, caution free. I couldn't believe that. I was really hoping to win, but I'm pretty happy with that. I hate that we weren't able to hang with Shane (James), but it's a new track so we just gotta work on our setups a little more."
South Carolina driver Hank Taylor was the biggest mover of the race, advancing to a sixth place finish after starting 14th. Andrew Engels held on for seventh, followed by Garrett Niebruegge, Dan Collinsworth and Eric Hough rounding out the top ten. Mississippi's Travis Marsh won the non-qualifier feature after fighting off Chris Orencia for the win.
Next week all three of VLR's series are in action at Williams Grove Speedway in Pennsylvania. Join us Sunday night at 8:40PM Eastern for the 410 Sprint Cars, and Monday night at 8:40PM Eastern for the UMP Modifieds. The final race of the week will be in the Super Late Models on Wednesday night at 8:15PM Eastern. See you all there!
For more information on the VLR Dirt Late Model Series, visit www.teamvlr.com. Fans can also follow the VLR tours on Facebook at Facebook.com/teamvlr.
Full Results:
Super LM A Main