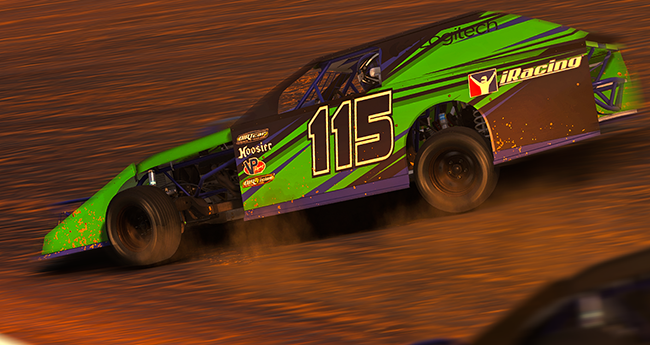 BRASELTON, GA (September 11, 2017) - John Fidler etched his name into the history books at VLR on Monday night, becoming the first ever winner of the VLR Mod Madness series. It wouldn't be easy, however, as Fidler had to survive an epic battle for the lead in the closing laps to hang on in a race that saw the leaders go four wide with ten laps to go.
Third-starting Fidler quickly worked his way into second on the initial start of the race, moving in just behind Bakersfield, CA driver Dylan Wilson. The race went caution free for the first 30 laps, and Fidler was able to close in on the rear bumper of Wilson by lap 20.
On lap 22, Fidler threw a slidejob for the ages to drift up in front of the #11 of Wilson. Somehow Fidler was able to keep his momentum rolling and take over the lead, while Wilson was forced to settle into second place. 
The two drivers continued to run nose to tail and occasionally battle side-by-side while the drivers third on back raced hard for positions as well. The first caution of the night came out on lap 30 when fifth place running Andrew Engels made contact with the rear bumper of Ken Short, sending Short for a spin.
On lap 36, the second and last caution of the night occured when a few cars running toward the back made contact with each other. The ensuing restart was the wildest of the night as Dylan Wilson would get a great start and take the lead. Coming off turn four with ten laps to go, Wilson, Fidler, Shane James, and Kyle Trevathan went four wide for a brief moment that had the packed crowd on their feet.
Three laps later Fidler was able to throw another slidejob to take the lead from Wilson. The duo would go on to trade slide-jobs in a rousing battle for the top spot. Fidler was eventually able to take the lead for good with three laps to go and survived one last dive bomb into turn three on the last lap to hang on for the win.
"This feels great man," said Fidler in victory lane. "Once we got out front it was shaky because the top was there and I was afraid second place might move up there and get a run on me. It's so hard to run the bottom if someones on your outside so I was happy to hold him (Wilson) off there. It was a great field though, top class drivers and really clean racing."
Fidler didn't have a smooth sail to Victory Lane, as the first time VLR winner had to hold off a stout charge all race long from pole-sitter Dylan Wilson. Wilson led 23 of the races 50 laps before coming home in second, just two car lengths from the top spot.
"Second feels good, but not as good as when you're leading and finish second, but I can't complain," said Wilson. "John made a hell of a pass on me and once he got by he kinda showed me where we needed to be running, but it was hard to pass. I didn't have enough gear to run the top so I was pretty much stuck on the bottom. That was a great race though, I'm sure that was a hell of a race for the viewers."
Shane James was the third car to complete the 50 lap race after starting in fourth. "It was like driving on ice," said James, referring to the slick surface the drivers raced on. "All these guys in this race tonight are really good drivers. I think there were only two cautions and I'm happy to get a top three out of it."
Howard Weaver made an impressive charge from his tenth starting position to come home in fourth, and he was followed by 9th-starting Jeremy Capron in fifth. Eric Fargo was the hard charger of the race, after rallying from his dead last starting position in 20th to bring home eighth. 
Next week the VLR Monday Mod Madness series will roll into week two as the series heads to the big half-mile of Williams Grove Speedway for 35 laps of action. Tune in live on our page at 9pm Eastern for another live broadcast as we expect to have another exciting race to the end!
Don't forget, we also have a Super dirt late model series on Wednesday nights at 8:30et, and a 410 Sprint Car Series on Sunday nights at 9:00et. If you're interested in sponsoring any of our series, please email us at This email address is being protected from spambots. You need JavaScript enabled to view it. to get started. Your business logo and other content will be included in broadcasts and race writeups.
Hope to see you all there!
PERFORMER OF THE RACE: John Fidler
FULL RESULTS:
UMP Mod Series