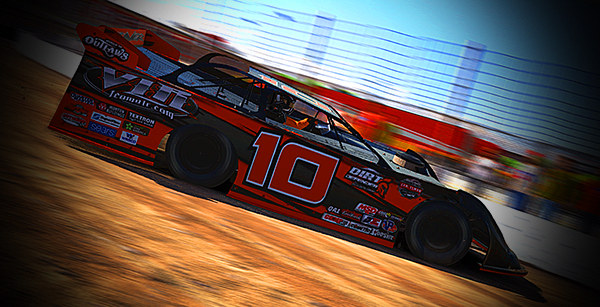 ROSSBURG, OH (September 6, 2017) - The Team VLR Late Model Dirt Series' paid visit to the famous Eldora Speedway in week two and it was a memorable one. Howard Weaver was celebrating his 29th birthday and did so in style, holding off strong challenges from Justin Norwood and Jacob Leverstein to score a huge victory. Norwood sat on the pole and was able to finish second, with Leverstein crossing the line nearly side by side with him in third. Completing the top five were Garrett Niebruegge and Mark Guessford.
Weaver has now won both VLR races to open the Super Late Model season, after fighting off Justin Norwood in both of them. The overall event virtually mirrored last week's opener at USA Speedway as it was Justin Norwood who once again set quick time in qualifying only to be passed for the lead a handful of laps in before settling in and finishing a close second.
The 18-car field all utilized many different racing grooves on the track, with leader Howard Weaver frequently running the lightly used bottom line all the way around the track, while Norwood and Leverstein raced on his bumper on the high side. Weaver would go on to win by just over a car length ahead of Norwood after 50 intense laps.
"We've been on a roll here lately and it's always good to win at Eldora. This is one of my best tracks so I had a lot of confidence coming into this one that we could win. Justin did a great job just edging me out for the pole and I knew it would be a good race between all of us in the top five. I was running some different lines that race just trying to find more grip and it seemed to work. This is a great win for us to start the season with for sure," said the birthday driver in victory lane.
Weaver frequently changed lines throughout the race, and at one point ran three completely different lines in three consecutive laps while not losing any ground to the drivers behind him. Pole-sitter Justin Norwood led the first four laps of the race before trading slidejobs back and forth with Weaver and giving up the point with 45 laps to go. Weaver would never look back from there, but always had constant pressure from the car of Norwood and Jacob Leverstein in his mirror.
Norwood maintains his VLR Late Model runner up points position with his second-place finish in his Team VLR Dirt Late Model. "I'm tickled to death to get second at Eldora. This is my worst track by far and somehow I was able to outqualify Howard here and hold off Jacob to finish second. It's a great points day here for us and gives me hope going into the next few weeks that we can keep this going and get a win."
Jacob Leverstein was credited with a third place finish after a thrilling battle with Justin Norwood for the runenr up spot at the end. "That was a fun race up front. There were a couple of cautions that came out at a bad time for us or I thought we might have had a shot to win. This isn't a good track for me though so I'll take a top three here all day. That was some good racing with Howard and Justin though and hopefully next time we'll come out on top."
Completing the top ten were Robert Schaeffer, Lewis Hewett, Dan Collinsworth, Jason Lineweaver, and Devin Johnson.
Next week the VLR tours move on to the Lanier Speedway for a wild week of action! Join us Sunday night at 8:40pm ET as the VLR 410 Sprint Car Series puts on a show, followed by our brand new UMP Modified Series on Monday night. Finally, the VLR Super Late Model series will visit the high banked bullring on Wednesday night at 8:30pm ET for 100 laps of grueling, fast-paced racing action. See you there!