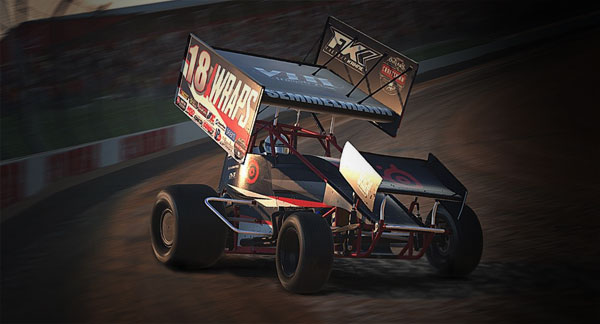 ROSSBURG, OH (September 4, 2017) - Multiple-time VLR champion Austen Semmelmann once again made a late charge to win and start the VLR World Of Outlaws Sprint Car Series two for two after passing Adelaide, AU driver Lewis Hewett with three laps to go in Sunday nights 35-lap main event at the Eldora Speedway
Timely caution flags helped twelfth place starting Semmelmann rally to the front of the pack, with the Brookfield, WI native utilizing the high side of the track to zoom past other competitors. The longer the race stayed under Green Flag conditions, the better Semmelmann was.
Semmelmann was running 7th with just 12 laps to go when the 19 car of Drummondville, QU, Canada's Alex Bergeron attempted a slidejob that resulted in contact with Eric Hough, sending Hough's car careening into Daniel Gow and Dillon Semmelmann. 
The accident would move Semmelmann up to the fourth spot on a restart, and from there he was able to power along the outside wall and make a bold move to take the lead for good with three laps to go.
"Man, that was fun, said Semmelmann in victory lane once again. "I didn't know if we had it in us this week starting so far back, but the cautions came out at the right time and I was able to find grip at the very top there and it just hooked up perfectly.
"We didn't show much speed in the heat race so I was nervous about how the feature would go but once we started pounding the cushion the car took off. Definitely was a fun race there with Howard (Weaver) and Lewis (Hewett). Hopefully we can keep running up front like this."
Lewis Hewett led 32 of the races 35 laps, but was unable to thwart the torrid pace of Semmelmann in the closing laps. Semmelmann banged his right rear against the outside wall in the closing laps to quickly make up ground on Hewett and second place running Howard Weaver before throwing a perfectly executed slidejob in turn three to clear Hewett for the lead coming to lap 33. Hewett was left wondering what could've been.
"I have no idea where he came from," said Hewett. "I guess in hindsight I should've moved up to the high-side sooner but there seemed to be good grip in the middle. With the line he was able to run there wasn't much I could do once he got by me. All-in-all though I'll take second place for our first time out here this season but I definitely am going to be kicking myself for not hanging on to it."
Tennessee driver Howard Weaver shook off a bad start to open the season last week at USA Speedway and rebounded with a top three finish. Last week, Weaver qualified on the outside pole but was involved in a lap one accident before rallying to sixth. This time around, he managed hang on to a solid third place finish and move into second in points.
"I needed a run like this after having my race pretty much end last week before we finished a lap, so it's good to finish where we probably should've," said Weaver. "Eldora always seems to be a good track for me but I had nothing for Austen there at the end. He just blew past me and we about tangled up but luckily both of us saved it. I'm definitely looking forward to Lanier next week as it will be a new track that none of us will have laps on beforehand."
The 35-lap feature race was slowed by five cautions, with the first one coming from pole-sitter Josh Weems as he tangled up with Alex Bergeron on lap two, ending Weems' night. Austen Semmelmann was the hard charger of the night, powering from 12th to 1st, while Zachary Mietzner also had a strong rally, going from 14th to 6th at the finish.
The top five finishers were Austen Semmelmann, Lewis Hewett, Howard Weaver, Alex Bergeron, and Idaho's Brad Casch in fifth.
The Team VLR World of Outlaws tour heads south to Brasleton, GA on Sunday night to do battle at the brand new Lanier Speedway which should be released on Wednesday. We hope to see everyone back next Sunday, and don't forget to race in our Super Late Model Series this Wednesday, also at the Eldora Speedway!
NOTES:
$10 Performer of the Week award: Austen Semmelmann
Finish/Start/Name
1. (12) Austen Semmelmann
2. (2) Lewis Hewett)
3. (4) Howard Weaver
4. (3) Alex Bergeron
5. (8) Brad Casch
6. (14) Zachary Mietzner
7. (15) Daniel Passmore
8. (11) Justin Norwood
9. (9) Daniel Gow
10. (10) Eric Hough
11. (5) Drew Neel
12. (6) Dillon Semmelmann
13. (16) Theodore Arnold
14. (13) Curtis Kelley
15. (7) Aaron Paule
16. (1) Josh Weems
17. (18) Peter Holmes, Jr.
18. (17) Nick L. Gray