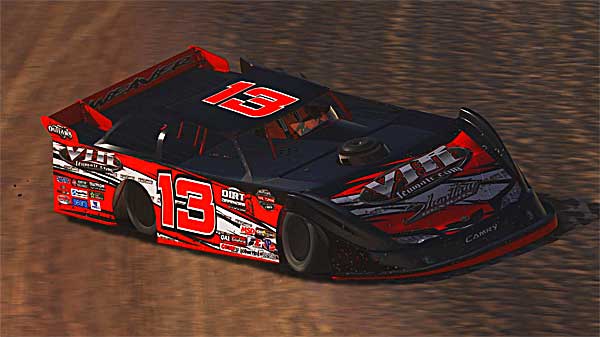 LAKELAND, FL (August 27, 2017) – The Team VLR World of Outlaws Craftsman® Late Model Series season opener at USA International Speedway was stacked with 26 Late Model drivers from around the world, but that didn't stop second-starting Howard Weaver from taking home a hard fought victory over some strong contenders.
Pole-sitter Justin Norwood stayed close and finished right on Weaver's bumper as the checkers fell. Bryce Fauntleroy followed closely third, with Josh Phillips logging an impressive fourth place finish. Khaled Graham worked his way from 10th to finish 4th.
The win was Weaver's 30th all time at VLR, but his first in the Super Late Models in iRacing.
The 28-year old was excited to be in Team VLR Victory Lane. "It feels awesome to get a win here tonight because I know the caliber of competition we had out here was really impressive. I could tell the track was kinda locked down to where we needed to run higher than normal to be fast but it worked out great and we were able to hold them off."
"With how the track slicked up I knew I would need to get a good start on the outside of Justin (Norwood) to have a shot to win because I didn't see it being real easy to pass on this surface. Luckily I got a perfect start after the first caution and was able to hold him off. He was a little faster than me I think but I just kinda stuck it in there in turn one and was able to hang on.
"All in all it was a good show though and I was really happy to hold Justin and all those guys off because I know they are some of the best drivers out there."
The 40-lap race started off with a handful of green flag laps when the first caution came out while Norwood and Weaver battled side-by-side for the lead. On the ensuing green flag start, Weaver powered his Toyota Camry Dirt Late Model to the outside of Norwood in turn one and took the lead. The Tennessee driver would lead the remaining 35 laps to pick up the victory.
Justin Norwood was pleased with his second place finish, but the night's fast qualifier would've liked one more shot to win at the end.
"We had a real fast car here all night tonight," said Norwood after the race. "I think we were the fastest car overall but it was gonna be so hard to pass Howard there. I think I had a shot at him if we could've got a few more laps of green in but it didn't happen.
"All in all though it is a great start to our season and if there's anybody on the sim that I am OK with finishing second to then it'd have to be Weaver. I'm finally starting to feel a little better at Eldora for next week but I will just be happy if we can log a top 5 there and move on to the next one."
Bryce Fauntleroy ended up third after a great run, but was not quite fast enough to make any serious moves for the lead. "It was definitely top-dominated. Weaver and Norwood were both up there and it was going to be hard to pass either of them. We all three kinda rode around in each others tire tracks for the most part. It was a good race though, I just wish we could've parked it in victory lane, but I'll take a third place finish and be happy for tonight. I think we have a great car for Eldora next week so that one should be a good one."
Kentucky driver Josh Phillips made the trek to Lakeland, FL for the feature and did not disappoint. Phillips impressed with a top five in his second Super Late Model race at VLR.
"I'm over the moon right now, honestly," said Phillips. "I never dreamed I'd have a good clean race like that here and get a top 5 against some of the guys here tonight. Big congrats to my teammates up there of Howard and Justin for getting 1-2, and I'm happy I was able to bring home a top 5 for VLR, too. Definitely looking forward to Eldora next week and I will have a lot of confidence now after this run we had tonight."
Completing the top ten were Jacob Leverstein, Australian driver Lewis Hewett, Robert Schaeffer, Stephen Spies, and another Australian racer, Bob King.
The Team VLR World of Outlaws are now set to head to Eldora Speedway for what is sure to be another wild one. Check out our Facebook page and website at teamvlr.com for more information and to watch LIVE each week!
USA Speedway Notebook
Feature Results (40 Laps)
Finish/Start Position/Driver:
1 (2) Howard Weaver
2 (1) Justin Norwood
3 (3) Bryce Fauntleroy
4 (9) Josh Phillips
5 (10) Khaled Graham
6 (12) Jacob Leverstein
7 (13) Lewis Hewett
8 (7) Robert Schaeffer
9 (18) Stephen Spies
10 (8) Bob King
11 (6) Marc Molnar
12 (14)Garrett Niebruegge
13 (21) Mike Molnar
14 (11) Harold Rose
15 (19) Marvin Clay
16 (20) Roger Jett
17 (16) Chris Beck
18 (4) Dan Collinsworth
19 (23) Drew Neel
20 (5) Jackson Allen
21 (17) Jason Lineweaver
22 (24) Mark Guessford
23 (22) Jason Wood
24 (15) Scott L Schrader
25 (25) Chad Gamertsfelder