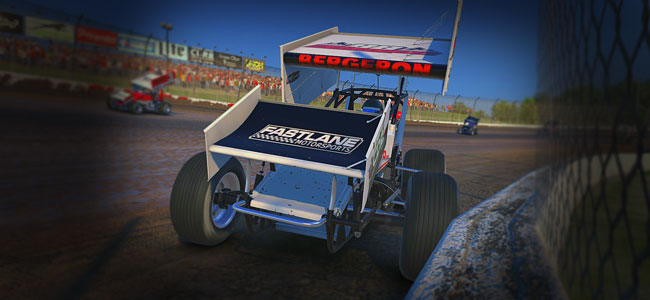 ROSSBURG, OH (June 4, 2017 - Alex Bergeron battled hard with Howard Weaver at tonight's WinView Games 35 event at Eldora Speedway before utilizing the high side to his advantage and pulling off an impressive victory from his fifth place starting position. With his win, Bergeron picked up his second victory in three starts this season at VLR.
"Our car was very fast tonight once again," said Bergeron after the race. "We were catching him a little bit (Weaver) after I messed up in the heat race but we came back and got the win so I'm happy with that."
The Canadian driver lead the final 17 circuits of the race as Austen Semmelmann made a late pass for second over Weaver but was unable to run down the 10 of Bergeron at the end.
"I knew we were fast but I was just waiting for the top side to come in there and it did about halfway through the race and then Howard got tangled up with the lap car and I was able to make my move right after that. I just had to hit my marks and stay out of the wall and I'd be good," said Bergeron.
Bergeron's win was the second of his career and it came in exciting fashion with the 17 year old having to work his way through the pack in a short amount of time.
Crossville, TN driver Howard Weaver advanced from third to first in Heat 1 to earn the pole starting position and held on to the spot for 18 of the 35 laps before a scary situation in turn one nearly ended his race.
Weaver was working the bottom in turn one when the 77 car of 14 year old Travis Snyder pulled onto the track in front of him causing the leader to slow down and swerve to avoid crashing into him. 
This allowed Bergeron to quickly close the gap from nearly one second, to taking the lead in the next corner with a well-timed slidejob.
Just three cautions slowed the race, with the final one occurring on lap 21 involving the 14 car of Eric Hough. By this time Bergeron had built a comfortable lead but it was the 18 car of Austen Semmelmann who suddenly found himself in third after starting last due to missing the drivers meeting.
Semmelmann, of Brookfield, WI, made a bold slidejob attempt to take over second place from Weaver with five laps to go, but was unable to reel in Bergeron over the final circuits and had to settle for second.
"We had a car that could win tonight but had to start last due to missing the drivers meeting," said Semmelmann. "So even though we got to second at the end it still stings knowing that we had a car that was capable of winning for sure. With one more caution after we got into second I think we definitely could've gotten around Alex but he drove a smart race."
Third place finisher Howard Weaver continued to build on his small points lead after a solid finish and leading the most laps.
"It's really hard to be upset with a third place finish here tonight," said Weaver. "But I've been racing sprint cars a little more lately and felt like we had a car that could battle for a win so it stinks that we weren't able to hang on for a win. I feel like if the lap car didn't pull out in front of me we'd have a good shot but there's nothing I can do about that now. I was just praying that the low side would stay fast because I ran a lot better down there. I knew when those guys started running the high line it was gonna get interesting. We will take third though and try again next week."
Iowa driver Eric Hough brought home a fourth place finish despite a late accident after running as high as second. Derek Line crossed the finish line in fifth for his best career VLR finish. Tommy Champagne, fast qualifier Rocky Battenfield, Carl Locuson, Chad Gamersfelter, and Thomas Axsom rounded out the top ten.
The Team VLR World of Outlaws Sprint Car Series returns to action next Sunday night at USA International Raceway in Lakeland, FL for a grueling 40 lap race at the 3/4 mile dirt oval.
Follow the Team VLR World of Outlaws Sprint Car Series on Facebook at www.facebook.com/teamvlr, or visit us on the web at www.teamvlr.com
Race Statistics
Entrants: 12
Lap Leaders: Howard Weaver (1-18); Alex Bergeron (19-35)
Cautions: 3 for 9 laps
Winviewgames.com/Jer289 Hard Charger of the Race: Austen Semmelmann (Started 11th; Finished 2nd)
Midwest Sheet Metal Spoiler Challenge Point Leader: Howard Weaver