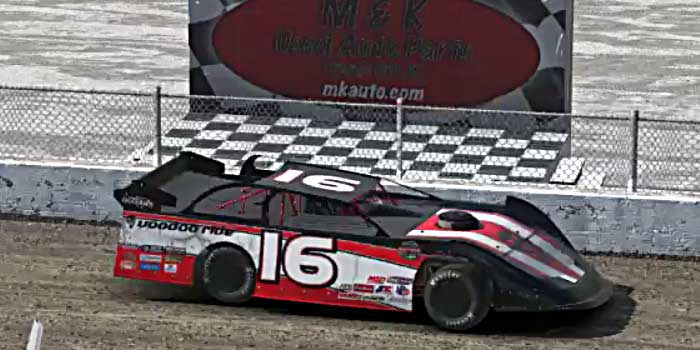 Race Video: https://www.facebook.com/DigitalForgeBroadcasting/videos/1917198688562779/
BARBERVILLE, FL (May 30, 2017) -  Louisiana driver Bryce Fauntleroy dominated a caution-filled Winview Games 50 at Volusia Speedway Park on Tuesday night to earn his first ever VLR win. Fauntleroy took the lead on lap one from pole-sitter and point leader Austen Semmelmann and held off the Brookfield, WI driver despite the ten cautions that slowed the pace of the event.
Semmelmann crossed the line in second and was followed closely by Jason Wood, who had the fans on their feet with an exciting late race charge toward the front. Ken Short also made a strong debut at VLR with a fourth place finish, and Tyler Collett rounded out the top five.
"I knew we had a great car here tonight and we just missed out on the pole," said Fauntleroy in victory lane. "I thought our best chance to win would be to get a good launch on the first start because it can be tough to pass here. I wish we could've had some longer green flag runs but at the end of the day it's just good to pick up a win."
Fauntleroy and Semmelmann remained clsoe all race, but with a caution coming out seemingly every lap it was hard to find much separation. The race went green for the final six laps however and Fauntleroy used a great start to pull away to the win, leaving Semmelmann and Wood to battle for second.
Semmelmann had a solid second-place finish, in his Teamvlr.com/Buffalo Wild Wings/Vic Hill Racing Engines #18 Dodge Challenger. "Second isn't bad but I would've liked to have gotten some more green flag racing in. I feel like Bryce was better on the short runs and I was better on the long runs even though it seemed like we didn't have any of those," said Semmelmann. "Bryce got a good clean start and was already in the lead off turn two and it was pretty much over at that point. Good job to him though because he survived everything and got the win."
Jason Wood charged from the outside of row three to claim third in his familiar orange and blue machine. "We have a good set-up package going on with this car. It's running the way I like it. It took us a while with this car, but we are finally starting to figure it out. The green flag periods seemed to be few and far between so I was pretty aggressive there in trying to make moves before the caution would come out again. We will take a third place finish for sure and move on to the next one and hopefully it'll be a cleaner race."
Completing the top ten behind Wood were Ken Short, Tyler Collett, Bryce Sheasby, Tyler Hallum, hard-charger Howard Weaver (19th to 8th), Michael Luna, and Philip Neace
In preliminary action, Austen Semmelmann set the overall Miller Welders Fast Time amongst the 23 entrants, with a lap of 16.003 seconds. VLR official are reviewing replays of the feature event to determine any penalties that may carry over to next weeks race at Williams Grove. VLR will use a live admin in future races to watch for drivers being too aggressive and hand out penalties as necessary.
Our next broadcasted race will be this Sunday night at 8:30pm Et as the VLR 360 Sprint Car Series hits the Eldora High Banks.
Race Statistics
Entrants: 23
Lap Leaders: Bryce Fauntleroy (1-50)
Cautions: 10 for 32 laps
Optima Batteries Hard Charger of the Race: Howard Weaver (Started 19th; Finished 8th)
Midwest Sheet Metal Spoiler Challenge Point Leader: Austen Semmelmann