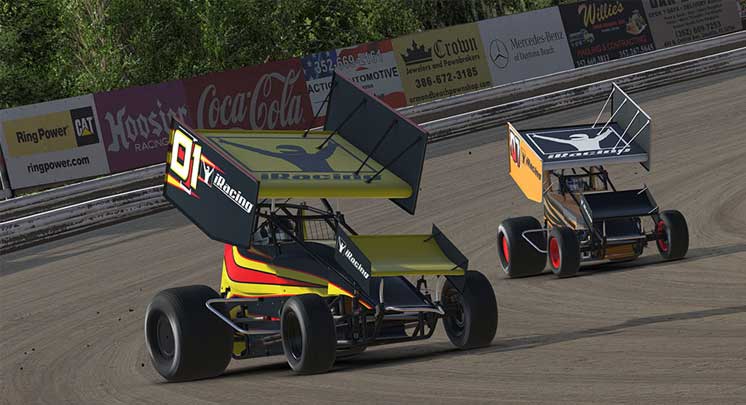 BARBERVILLE, FL (May 21, 2017) – Richard Murtaugh Jr. withstood a late surge from Howard Weaver and a pair of restarts with less than ten laps remaining to earn his first ever victory in a Team VLR sanctioned event in the 360 Sprint Cars at Volusia Speedway Park on Sunday night.
The driver from New York started from 4th spot, but used a great initial start to take the lead after five laps of the 40 lap main event over Pole Sitter Nick Gray. Murtaugh Jr. would then spend the rest of the event fighting off challenges from Sydney, Australia driver Brett Wheeler, and Crossville, TN's Howard Weaver to earn a close victory in a race that saw six cautions in the 40 lap event.
"I'm really happy to get the win here at VLR in my first race. There are some really talented drivers here and all those restarts at the end had me a little nervous but luckily I was able to keep our car out front," said Murtaugh in Victory Lane. "I've raced with Howard (weaver) in late models before so I know how fast he is so to be able to hold him off in any car is good. This is a big win though and I hope to be back next week to try again."
Gray brought the field to the green flag for the main event with Wheeler to his outside. Gray would quickly jump out to the lead before a lap two caution for the #33 of Tommy Champagne slowed the field. Murtaugh Jr. got a great launch from third after the restart and quickly moved into the lead while Gray began faltering with apparent engine problems. By lap 7, Gray had pulled off the track effectively ending his night early after starting on the pole.
Murtaugh Jr. had Wheeler and Weaver right on his bumper over the next five laps before Andrew Locuson's car slowed to a stop in turn one, bringing out the second caution of the evening.
Four more cautions would slow the pace, and on lap 25 Brett Wheeler pulled off the track while running second after breaking something in the rear end. This would move the hard charging Howard Weaver into second after missing qualifying and starting the A Main from 7th spot. Weaver was unable to make any moves on Richard "The Rocket" Murtaugh Jr. and came home four car lengths back in second.
"I'm happy with second place again," said the Crossville, TN driver. "We finished second last week and got second again this week so I can't complain. I really believe that if we hadn't missed qualifying that we could've won but oh well, we still had a chance. I think Richard and I were both pretty even but he took off really well at the end.
"I'm hoping to get a win in these things before the end of the season just to show myself that I can do it since Late Models are my main focus. I'm just happy we've been able to be competitive so far, and hopefully the wins will follow soon.
Mississippi driver James Sheasby powered from his 11th starting position to bring home a solid third place finish despite being involved in a few scuffles during the feature.
"We probably didn't have the best car out here," commented Sheasby after the race. "But we positioned ourselves to be there at the end and take advantage of other people's mistakes and it worked out. All in all it was a good run and hopefully next week we'll have a cleaner race and see if we can finish two spots higher."
Nick Gray blistered the half-mile D shaped oval in qualifying with a 13.92 second lap. His lap was nearly three tenths of a second faster than second place qualifier Trevor Denton, of Knoxville, TN, who paced the track with a 14.19 second lap. 
The Team VLR World of Outlaws 360 Sprint Car series will roll on to the Eldora Speedway next Sunday night for another great night of racing action. We will see you all there!