McKinney climbs from 19th to 1st to win at Limaland!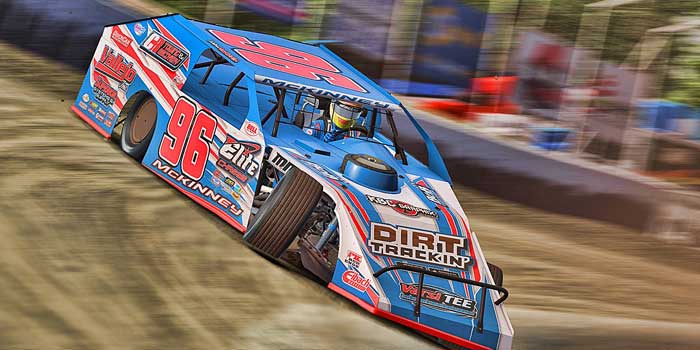 Wednesday March 7, 2018 (
Limaland Motorsports Park
) - The Plainfield Prodigy 
Mike McKinney
 takes home his first career (official) VLR victory tonight in the 
X.CELERATED
 Team VLR 
DIRTcar UMP
 Series presented by 
WR1 Sim Chassis
 in the first VLR race ever at the Limaland Motorsports Park!
McKinney muscled his way to the front by working the newly implemented cushion and piloting his mount from 19th 
to 1st after not making the feature last week at Lanier. He qualified 41st on the night against a stacked field of drivers, making the final result even more impressive.


Possibly driving with a chip on his shoulder to make up for last weeks disappointment, McKinney not only won the A Main but also earned the Burrberry Designs Hard Charger award in the process in one of the most exciting races in recent memory at VLR. The stars of the VLR UMP Modified series proved they were up for the grueling challenge of the 1/4 mile short track debut by making the first 33 laps of the 60 lap event caution free.

"I qualified like 2nd to last but the track changed so much from qualifying to the feature" said the Illinois driver in victory lane. "Once the top came in it was great because that's kind of my ballpark in these things with the cushion. Had some good sliders there at the end and was able to bring it home. I'm grateful to take home the win in a VLR race, it's always a tough place to win."

Camarillo, California's Trevor Fitz brought home his best career finish by coming home in the runner-up spot. Fitz and the #96 of McKinney spent the last twenty laps of the race throwing haymaker slidejobs before contact with the wall ended Fitz' shot at his first win in the VLR series. Tommy Dutcher also snagged his best career finish at VLR with a third, followed by Greg Thompson and Travis Marshrounding out the top five.

Last weeks winner Vinny Fingers was the recipient of the Mastell Brothers Trailer Service Inc. Hard Luck Award after starting from the front row and getting caught up in an incident to finish 19th.

Dylonn Fox grabbed the Team Friday Fast Lap Award this week despite finishing 23rd after a promising night turned sour. The young driver worked the cushion like a pro on his way to the 13.007 lap time.

Next Wednesday the stars of the X.CELERATED VLR UMP Modified series presented by WR1 Sim Chassis will head to The Dirt Track at Charlotte for what is sure to be another thriller. Catch all the action live right here on our page!

Race Winner: Mike McKinney (started 19th)
Hard Charger: Mike McKinney (19th to 1st)
Fast Qualifier: Howard Weaver (13.49)

Full A-Main Results:

1. Mike McKinney
2. Trevor Fitz
3. Tommy Dutcher
4. Greg Thompson
5. Travis Marsh
6. Zak Rounds
7. Blake Brown
8. Chad Wheeler
9. Mike Molnar
10. Dalton Conner
11. Corey Boudinot
12. Austin Matthews
13. Seth Geary
14. Jeremy Capron
15. Leo Pina
16. Howard Weaver
17. Dylan Wilson
18. Garrett Niebruegge
19. Virgil Graham
20. Jacob Leverstein
21. Dylan Houser
22. TJ Carter
23. Dylonn Fox
24. Marc Molnar
25. Ryan Martin