Bergeron takes home the win at Lanier in the Sprint Cars!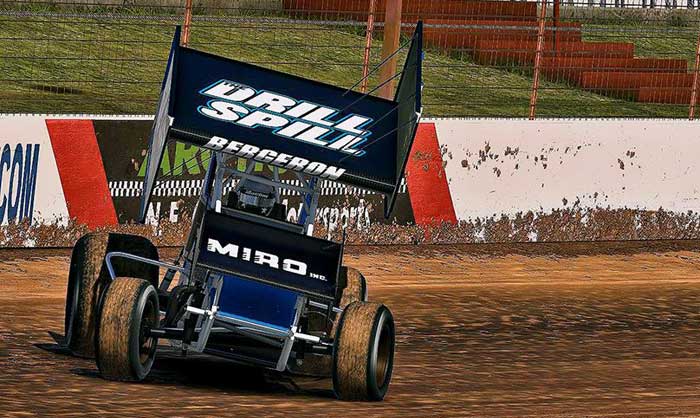 Sunday, March 4, 2018 (Lanier Speedway) - Quebec Driver 
Alex Bergeron Racing
 continued his great form in the 
X.CELERATED
 Sprint Car Series presented by 
Dirt Collective
 with his first win of the season in Week 3. Bergeron held off challenges from Nick Cooper, Joel Berkley and 
Chris Brenner
 to get the victory at the third mile speedway.
Bergeron started on the pole after the turning the fastest qua
lifying time and weaving through the field of his heat to a transfer spot after the six car invert. Due to an admin error, Bergeron missed all of the warm-up session before the feature but was still able to take home the victory over the 22-car field.


Bergeron's biggest challenge of the night came fromUWU Motorsports driver Chris Brenner through much of the race. Brenner was hot on the tail of Bergeron until an error on a late restart by fellow front-runner Joel Berkley caused Berkley to spin his tires and shoot down the track into an unsuspecting Brenner. This incident allowed series points leader and two-time race winner Nick Cooper a chance to pressure Bergeron, but the Canadian had more than enough speed to hold off Cooper's attempts.

After the dust settled, Nick Cooper crossed the finish line in second, Jason Brown in third, Austin Matthews in fourth and Anthony LoPresto filled out the top five. 

Tommy Rowe takes home the Hard Charger award in the 410 sprints, slicing his way from 19th to 9th in the feature. Chris Brenner takes home the Team Friday Fast Lap award after turning a 12.459 on his second lap. (

https://youtu.be/

CWCabh0nHmI)

In the 360 Sprints, Cody Olsen picks up the victory after starting third. Olsen edged out Kevin Loveys in second, Britton Roxberry in third, Kyle Scott and Devon Borden in fourth and fifth respectively. Shawn Wallenfelsz Jr. would take home the Dirt-All Access Hard Charger award in the 360 Sprints after moving from his 20th starting position to sixth.

The series will continue next Sunday night live on the Dirt Collective facebook page!

Race Winner: Alex Bergeron (started 1st)
Hard Charger: Tommy Rowe (19th to 9th)
Fastest Lap: Chris Brenner (12.459)

Full 410 A Main Results:
1. Alex Bergeron
2. Nick Cooper
3. Jason Brown
4. Austin Matthews
5. Anthony LoPresto
6. Dylan Wagner
7. Cole Neuhalfen
8. Mike Molnar
9. Tommy Rowe
10. David Heileman
11. Josh Phillips
12. Justin Norwood
13. Trampas Kolthoff
14. Michael Sheridan
15. Austin Carr
16. Tommy Champagne
17. Dillon Semmelmann
18. Chris Brenner
19. Joel Berkley
20. Drew Phillips
21. Lewis Hewett
22. Bradley Casch