Ryals wins a thriller at Eldora in VLR's first Super LM race!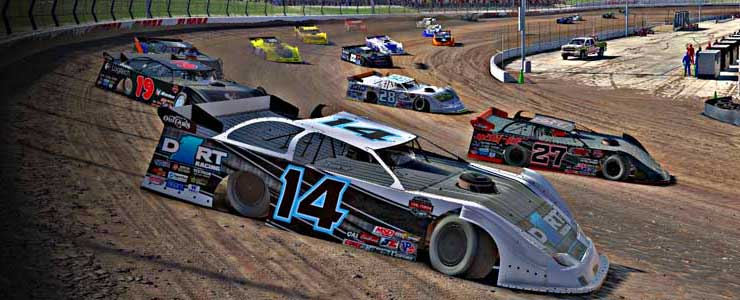 *Note: We are looking for iRacing Dirt sponsors! If interested, please visit this link now. Thank you for your support: Sponsor Us!
ROSSBURG, OH (May 11, 2017) – In his first ever start in the 13 year history of Team VLR, Grant Ryals made a statement by winning in his first attempt in the Super Dirt Late Models. In front of a tremendous crowd and while closing out an action-packed race that was filled with drama, Ryals made a bold slidejob with three laps to go on pole-sitter Virgil Graham to seal the deal by just 0.217 seconds.
Graham set fast time for the even with an extremely impressive lap time of 15.355 around the 1/2 mile oval. The Pennsylvania driver would then go on to lead every lap of the feature until lap 47 of 50 when Ryals finally was able to make a move.
Even though the last "official" lead change was with three to go, the two dirt racing veterans still traded slidejobs every lap until turn two of the final lap when Ryals finally completed the race winning slidejob over Graham in a battle that had the capacity crowd on their feet for the entire race.
"That was a hell of a race with Virgil there at the end. I thought I could get him if we ever got a long enough green flag going. It was so hard to pass and I was right on his bumper almost all race so the dust was really making it tough to see and be smooth. I was just hoping we wouldn't get another caution at the end because he would get great starts and every time I'd catch him the caution would come back out it seemed," said Ryals in the Team VLR victory lane for his first career VLR win.
"I want to thank D1RT for the ride and Team VLR for putting on this show for all of us. I know it's a lot of hard work to put on these races for all of us so it means a lot to me for us to have a good place to race."
Graham bolted to the lead at the start of the race and led the first 47 circuits until Ryals was finally able to make his move with just three laps remaining. Five cautions slowed the event, but the last 11 laps were ran caution free which gave Ryals the opportunity to pounce on the #42 of Virgil Graham.
"It was a really good race there with Ryals," said Graham after the race. "We took off so well on the starts after the caution that I really wouldn't have minded having one more there at the end. Grant was faster on the long run so I knew we would have a hard time keeping in front of him if it went green. We went the wrong way on our setup before the feature and that threw me off a bit, but it was going to be tough to hold him off either way."
One of the big moments of the race happened on lap 22 when 19th starting Bryce Sheasby tagged the wall going into turn one and collected the 97 machine of Rocky Battenfield. Battenfield then came down the track where the leaders were coming into turn one and the leader at the time, Graham, slammed into the side of Battenfield's car. Fortunately the damage was mostly cosmetic and Graham was able to resume the race from his first place position after the caution.
Trevor Fitz had a steady race and brought home a strong third place finish in his first VLR start ever. Sheldon Neville rallied from his 9th place starting position to grab fourth. 
"We had a pretty good car tonight. It was mostly about not making mistakes. I don't think I would've had anything for the top three, but we finished about as good as we could've expected for starting midpack. I'm happy with this and we'll move on to Volusia and hopefully do even better," said Neville after the race.
Completing the top ten were Austen Semmelmann, Howard Weaver, Trevor Denton, Keenen Golliet, Khaled Graham, and Bryce Sheasby.
Knoxville, TN driver Trevor Denton was late to the show and missed qualifying. He then piloted his 149 machine from his 20th starting position to finish 7th after the dust settled to earn the Teamvlr.com hard charger award.
Next week, the series makes its move to Tuesday night racing at the same time (8:30et), as the stars and cars of the VLR Super Late Model series tackle the Volusia Speedway Park in Barberville, FL. We hope to see everyone from this week and more at the race!
Team VLR Late Model Dirt Series
Race Summary
Saturday, May 10th, 2017
Cornfield Classic
Eldora Speedway – Rossburg, OH
Race Statistics
Entrants: 22
Lap Leaders: Virgil Graham (Laps 1 – 47); Grant Ryals (Laps 47-50)
Cautions: Rocky Battenfield (Lap 2); Brandon Smith (Lap 7); Logan Kennell (Lap 19); Bryce Sheasby (Lap 22); Jason Shank (Lap 36)
TeamVLR.com Provisionals: N/A
TeamVLR.com Hard Charger of the Race: Trevor Denton (Started 20th, finished 7th; Advanced 13 positions)
TeamVLR.com Fast Lap of the Race: Grant Ryals (15.611)
TeamVLR.com Point Leader: Grant Ryals
Most Laps Led: Virgil Graham (47 Laps)
TeamVLR.com Tough Break Award: Eric Hough
Time of Race: 20 minutes 7 seconds